'The Host' Trailer & Poster: Stephenie Meyer's Post 'Twilight' Sci-Fi Love Story, From Director Andrew Niccol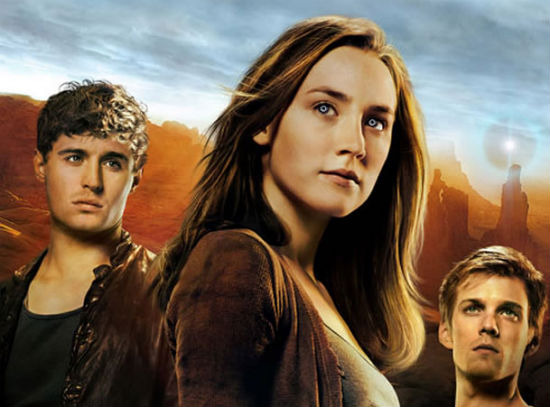 Over the past five years, author Stephenie Meyer has proved she can strike a chord blending genre and romance. Her Twilight books and movies are some of the most successful in recent memory, playing to a specific audience hungry for passionate romance and tantalized by their horror-inspired roots.
Once Meyer finished Twilight, she published The Host, which has now been adapted for the big screen by Andrew Niccol (Gattaca, The Truman Show) and it's more of that proven formula. Set in a future where most of the world has been taken over by parasitic alien beings, The Host follows a romantically involved survivor, played by Saoirse Ronan, whose human soul fights her alien parasite to help the human resistance against their alien invaders.
At least, that's what the first trailer for the film showed. Now the final theatrical trailer has been released — likely meant to be attached to this weekend's The Twilight Saga: Breaking Dawn Part 2 — and it dials down the sci-fi alien action angle in place of sappy teen romance. Check it out below.
Here's the full length trailer for The Host, courtesy of MTV.
Get More:
The second half of this trailer looks potentially promising, with the humans fighting their alien enemies and one of the aliens battling internally with the Ronan character. But it's that first half that worries me. Obviously, you have to play to the Twilight fans, who love Stephenie Meyer's romantic sensibility, but weren't they going to show up no matter what? Wouldn't one think this trailer should attempt to draw in a new audience outside of those hardcore Meyer fans? I guess that's why both halves are so different. They're hoping people think The Host as something for everyone. And maybe they're right. (Or not.)
The Host, written and directed by Andrew Niccol, co-stars Max Irons, Jake Abel, Diane Kruger, William Hurt and Frances Fisher. It opens March 29. Here's the poster. What do you think?