Star Wars Bits: Guillermo Del Toro Weighs In On 'Star Wars' Directing Job, Will Darth Vader Rise From The Ashes?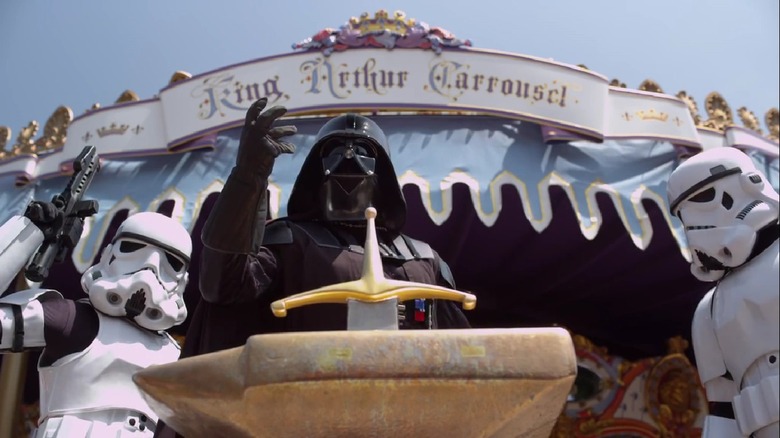 Disney's Star Wars Episode VII announcement naturally raised a lot of questions, but two of the biggest might be who will direct, and what the plotline will be. Indeed, it seems like every day there's a new quote by a filmmaker weighing in on the possibility of their directing, or a fresh bit of speculation about which characters might return.
We've already heard remarks from Zack Snyder, Steven Spielberg, Quentin Tarantino, J.J. Abrams, Jon Favreau, and Colin Trevorrow about whether or not they'd like to take over the franchise, and there's been widespread talk that an older Luke Skywalker could figure into the new plot. Today, another fan favorite director, Guillermo del Toro, offers his two cents, while a rumor flares up that Darth Vader could be resurrected for the next movie. Read on after the jump.
You know, I saw it on the Internet, but I haven't approached them, they haven't formally approached me. I mean, I heard some rumblings, but to me it's really — I have so many projects to discuss or think about. [For] something that is not a possibility yet, I don't do that. You know, because I have so many things that I need to catch up with. If this becomes ever a reality, and there's an approach to do it, I would then think about it, but — it's like thinking if I want to date a supermodel. I don't think about these things.
The site notes that the emphasis on "formally" is del Toro's, which seems to suggest that he's informally up for the job. That doesn't tell us much in and of itself, however. Michael Arndt's treatment is said to have made its way to Spielberg, Abrams, and Brad Bird, and the first two of those have already shot down speculation that they might be circling. In other words, it seems like Disney's cast a pretty wide net so it's understandable that a director as respected as del Toro would be in it. Still — how fun would it be to watch a del Toro version of Star Wars?
The rumor about Darth Vader, meanwhile, comes from the British tabloid site Express.co.uk. As we know, the character died during the events of Episode VI: Return of the Jedi. If the next installment picks up after VI, as rumored, there's no obvious way to bring him back. According to "industry insiders," though, Disney's eager to do just that.
"He's an integral part of the franchise. Replacing him is virtually impossible," one source says. "The plan is for him to return and play a significant role in the new films." Keep in mind that U.K. tabloids can be notoriously unreliable about movie news, especially this early in the development process. But this one has the ring of plausibility to it, if only because Darth Vader really is the series' most iconic — and therefore most marketable — character.
As for how they'll resuscitate a dead man, well, stranger things have happened in movies. "This is science fiction, remember," the source said. "Darth Vader will rise from the ashes."