'A Young Doctor's Notebook' Trailer: Don Draper And Harry Potter Pass The Loofah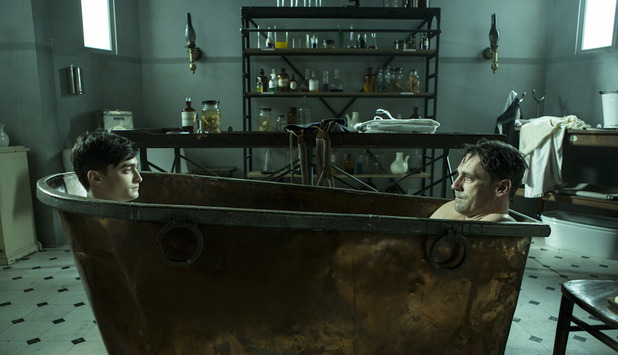 At first blush, Harry Potter and Don Draper wouldn't seem to have much in common, but according to a new Brit miniseries, the former grows up to become the latter. Daniel Radcliffe and Jon Hamm signed on several months back to star in the drama-comedy A Young Doctor's Notebook, as younger and older versions of the same character.
A batch of set photos circulated a few weeks back, showing the actors trying their hardest (and mostly failing IMO) to look like the same person, and now the first trailer has hit the web. Hit the jump to see if they fare any better on video. At the very least, you'll get to enjoy the novelty of seeing these two engage in some steamy loofah action.
[via ScreenCrush]
The most obvious disconnect with the casting has to be the height difference. There's just really no way the 23-year-old Radcliffe grows seven inches by the time he turns into the 41-year-old Hamm. And while we don't get to hear much of Hamm's British accent in this video, what we do hear is pretty shaky. But they're both good actors with sizable fanbases, and it could be worth tuning in just to see them starring side by side.
A Young Doctor's Notebook will air on Sky Arts 1 in the U.K. starting December 6. No U.S. airdate has been announced, but considering how popular both actors are in the State it seems likely to hit our shore sooner or later.