George Clooney In Talks For Brad Bird's Mysterious Sci-Fi Project '1952'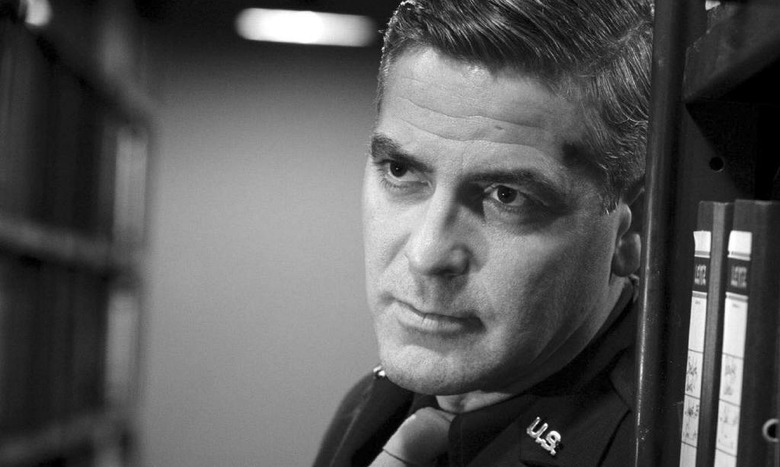 After gallivanting about outer space in Alfonso Cuarón's Gravity, George Clooney will (possibly) see outer space coming to him in Brad Bird's 1952. The star has just entered negotiations for the sci-fi tentpole, which is set up at Disney. The script comes from Jeff Jensen and Damon Lindelof, and has drawn comparisons to Close Encounters of the Third Kind. More details after the jump.
Considering who's involved, it shouldn't come as much of a surprise that plot details are being kept under very tight wraps. Vulture got word earlier this fall that the film followed a "Roy Neary-like protagonist," but said that it was not about an alien encounter as had been previously reported. Variety's latest update, on the other hand, indicates that 1952 is indeed about alien contact.
So basically, no one knows anything for certain. But many are speculating that there will be an outer space connection of some sort. 1952 is a big year in alien lore, as that's when Project Blue Book started and the Washington D.C. UFO incident took place.
What we do know is that Disney is envisioning the project as a large-scale tentpole with "multi-platform aspirations." It received a flurry of attention last week when a theory got around that 1952 was a code name for Star Wars VII, but that rumor has since been debunked.
A start date has not been announced, and Variety's sources stress that 1952 has not yet received an official greenlight, much less started locking down its cast. Assuming it moves ahead, however, it will be Bird's next directorial effort and his second live-action movie after Mission: Impossible – Ghost Protocol.
It's difficult to gauge Clooney's suitability for the role without knowing more about it, but his involvement seems like a good sign for the movie in general. Clooney's an acclaimed A-lister who's reasonably choosy about his projects, so there must be something about 1952 that intrigues him. Or so we hope. Clooney's next set to direct and star in Monuments Men, about art historians protecting treasured artworks from the Nazis during World War II.