Sequel Bits: 'Pacific Rim 2,' 'G.I. Joe: Retaliation,' 'Scream 5,' Plus 'Serenity' Dreams, And Possible 'Anchorman 2' And 'Dawn Of The Planet Of The Apes' Shoot Dates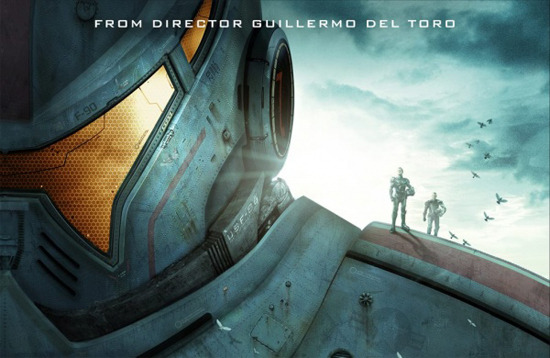 The sequel news today is partly theoretical, and partly oriented around 3D. After the break, find details on the following items:
Guillermo del Toro has toyed with a Pacific Rim sequel,
G.I. Joe: Retaliation producer talks about that film's late in the game 3D conversion,
It seems like Scream 5 isn't happening any time soon, according to Wes Craven,
a Serenity cast member hopes for a sequel,
Anchorman 2 may shoot in March, says Judd Apatow,
and so could Dawn of the Planet of the Apes.
Guillermo del Toro promised at Comic Con that the publicity campaign for his new film, Pacific Rim, would be going dark until December. That hasn't quite happened, as we've seen a couple images, not to mention the announcement of a 3D conversion for the film, but for the most part the filmmaker and the studio team behind him have held to that word.
Speaking to Collider, the director talked about a few different things, dropping a couple meaty quotes about the 3D conversion for the film, and the idea of a sequel. We'll start with the latter, given the focus of this page:
We certainly started tossing ideas for possibilities of a sequel and Travis Beacham and I are writing a proposal of ideas, but at the same time I know I don't want to do that next. I want to do something else, I want to do something in a different genre that's not so big. So I don't know yet what it's gonna be, but I know that next year I'm delivering Pacific Rim in July and then I'm doing—God willing—the voice shooting for Pinocchio and then the pilot for The Strain for FX.
After spending quite a bit of time on The Hobbit, then leaving to do the giant Pacific Rim (a trailer for which will likely be in front of the Peter Jackson version of The Hobbit), it's no surprise that he wants to take time with something smaller. With respect to 3D, GdT discussed the dual sources for the images, most of which is being converted, with some effects being composited directly for 3D — the advantage of deciding to "post-convert" before the effects are done and picture is locked.
We're getting footage in 3D from two forms: one is all the footage that is CG is being composited directly by ILM. So John Knoll, who is one of the greatest minds in the business, is supervising that there's no miniaturization in those shots. And they're looking gorgeous; they're coming basically fast and furious every week. And the other sources of 3D is Stereo D, and those are looking fantastic too.
Now let's go back to Collider for some more 3D talk, this time with Lorenzo di Bonaventura, producer of G.I. Joe: Retaliation. The film was delayed from a summer 2012 opening to an early 2013 opening. Though he was taken aback for a moment when Paramount decided to push the film by nine months only weeks before it was slated to open, it sounds like he's come around to thinking the decision was sound. He's toeing the line, at least, saying "if the studio wants to spend money on making your movie better, let them... I find it hilarious when people fight that, you know?"
We learned a lot about 3D—I personally learned a lot about 3D in Transformers. The conversion part of the 3D process is night and day, you know, every three, four months it's better than it was before. It's amazing how fast that thing has changes. And originally we didn't really have the time or the resources to try to figure out how to shoot it in 3D in the time frame that we were originally talking about, you know, starting in August and releasing in June. So this delay has allowed us to go at it now.
He also talked specifically about one part that should look great in 3D... but we still don't know exactly what was shot specifically for this 3D version.
Jon [Chu] has some sequences that are really, there's a phenomenal—for G.I. Joe fans it's going to be one of the really great scenes for them, because there's a fight between Snake Eyes and Storm Shadow in a hallway that is so perfect for 3D I can't tell you. It's going to be like one of the coolest fights ever in 3D, because there's so much about it that's dynamic. That's going to be really fun. And you know people have seen bits and pieces of the Himalayan sort of rock climbing thing, it's almost 3D without having turned into 3D, so I can't wait to see that. That one's going to be like what the hell?"
Wes Craven says Scream 5 isn't moving anywhere at this point. I'm not sure why he asked — after the fourth film, are people really clamoring for a continuation? Aside from the people who responded to Craven, that is.
No news on Scream 5 yet. You guys really want another one?

— Wes Craven (@wescraven) November 12, 2012


Simon Maher, who played Simon Tam in Serenity, hopes that Josh Whedon will get around to making a sequel to his big-screen Firefly story. We'll boil his long interview with Hero Complex down to just that one bit, as unlikely as a Serenity sequel may be for the time being. (Whedon has an exclusive three-year deal with Marvel right now, remember?) There's a lot more good stuff in the interview for those who are fans of Whedon's sci-fi show and movie.
But on the subject of fans who hope for an eventual Serenity sequel, Tam said,
You know, I'm one of those people. When I see him, I'm like, "I don't get it. Aren't you like king of the world right now? Can't you do anything? And I know we can't do another show. I get that. A television show would be very tricky with all of our availability, and I don't think that's in the realm of possibility. But what about another movie? You just shot 'Much Ado About Nothing' in 12 days. You're kind of amazing at that. You made that happen." I wish I could wrap my head around it a little more. So when people ask me if there's another one, I say, "You know, I don't think so, but I don't know, and I kind of don't understand why."
On the topic of unlikely sequels, when the hell is Anchorman 2 going to shoot? Glad you asked — in a recent interview, Judd Apatow said that the comedy, which he's producing, shoots in March. Bam! Given that we've heard the film will hit in 2013 some time, that's going to require some quick work on the part of the production. But I won't presume to tell those guys they can't make a good sequel in just a handful of months.
Here's the video, via The Playlist:
Finally, Dawn of the Planet of the Apes, which will be directed by Matt Reeves (Cloverfield, Let Me In) with Andy Serkis returning to voice and mo-cap the simian Caesar for the next installment of humanity's downfall at the hands of our primate cousins, may start filming in March 2013 in New Orleans. A Reddit page pointed towards an extras casting web site, though the specific Apes page has been taken down. If that date is correct, or close to correct, we should start to get more casting and story info any time now.