Sequel Bits: 'The Hangover Part III', 'The Hobbit', 'Snow White And The Huntsman 2', 'The Last Exorcism II'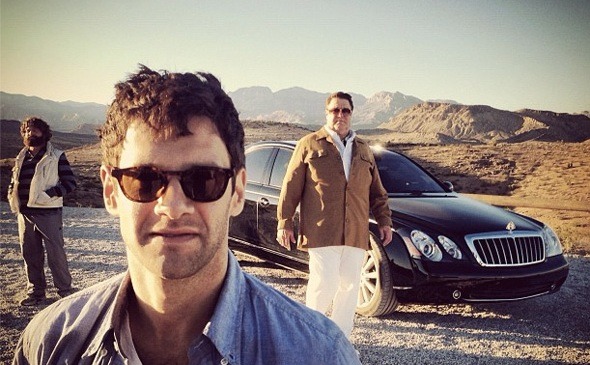 Before you head off for the weekend, we've got a few last sequel-related odds and ends. After the jump:
Kristen Stewart says she'll probably be in SWATH 2
The Last Exorcism II reveals an official synopsis
Get your first look at one of the Wargs from The Hobbit...
... and then look up exactly where you can see it in HFR 3D
The Hangover 3 uploads to Instagram; find out who dies
However, it seems something's been worked out after all. In a recent interview, Stewart indicated that she'd likely be back for the next film. "No one's positive or anything, but I think there's a strong possibility," she said. All the same, it could be a while before things come together. As of this summer, Universal had taken David Koepp off the script, and it remains unclear whether Sanders will return to direct. [THR]
The absurdly titled The Last Exorcism II: The Beginning of the End has just released its first official synopsis:
Eli Roth & Strike Entertainment bring us an even more terrifying and bigger scale sequel to THE LAST EXORCISM that grossed $70 million worldwide. It looks like Nell Sweetzer's last exorcism was not foolproof. She is back... and so are her demons.
Continuing where the first film left off, teenage Nell Sweetzer is found dirty and terrified in the woods having just escaped a demon ritual in which a cult helped her give birth to a demon baby. Confused and scared, Nell is examined by doctors but she doesn't remember much about the previous few months except that as a result of everything, her family is now dead. She is moved into Davreaux – a girls' halfway house in New Orleans, where she will try to put her life back together with the help of the therapist, Frank Merle. She even begins to date a boy named Chris and starts a job at a local hotel.
But something doesn't feel right to Nell. She is being sought after by the demon who possessed her in the first LAST EXORCISM. It wants Nell, but in a different way than before...
Ashley Bell returns to reprise her role as Nell. The Last Exorcism II will bow sometime next year. [Collider]
We've seen plenty of Bilbo, Gandalf, and the merry band of dwarves from The Hobbit, but it's time we took a closer look at some of Middle-Earth's less humanoid inhabitants. Take a peek at these stills of a Warg, a fearsome wolf/hyena type of creature.
Aww... Who's a good puppy? [Comic Book Movie]
And if you'd like to see these Wargs in HFR 3D, Bleeding Cool has the list of all theaters across the U.S. and Canada that will screen Peter Jackson's The Hobbit: An Unexpected Journey at 48 fps.
Previously, we'd heard that Warner Bros. planned to use the special format in a total of 450 theaters, but there's no way I'm counting all of these so I'll just take Brendon Connelly's word for it that it's a complete inventory. The film hits theaters in HFR 3D, regular 3D, and plain old 24 fps 2D December 14.
Finally, check out these Instagrammed snapshots from the set of The Hangover Part III, featuring stars Zach Galifianakis, Ed Helms, Bradley Cooper, Justin Bartha, Ken Jeong, John Goodman, and some creepy pigfaced men with guns.
Now, the photos aren't that spoiler-y in and of themselves, but this next part gives away some key details so avert your eyes if you'd rather not know...
If you'll note that the photo of Helms, Cooper, and Bartha show them standing in a graveyard, that's because Alan's father (Jeffrey Tambor) dies near the start of the movie. The main plot has been rumored to involve the gang breaking Galifianakis out of a mental institution, so if that's true perhaps this death is what sends Alan over the edge. All WB's confirmed for now, however, is that the story will involve a road trip.
Todd Phillips' The Hangover Part III opens May 24.