TV Bits: 'The Killing', 'Portlandia', 'Parks & Recreation', 'The Kennedys', 'The Carrie Diaries', Benjamin Walker, Keri Russell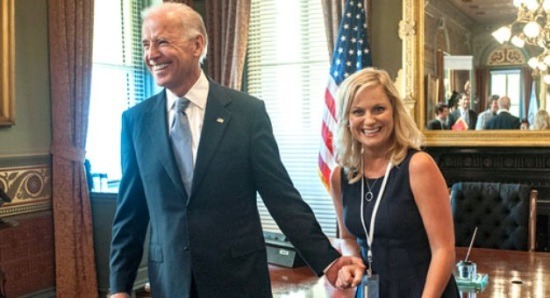 It's already time to look ahead to January, apparently, seeing as today's TV Bits includes updates on three shows premiering in early 2013. After the jump:
Leslie's celebrity crush Joe Biden is coming to Parks & Recreation
ReelzChannel is planning a sequel to 2011's political soap The Kennedys
Netflix is on the verge of a deal to save AMC's The Killing for Season 3
Vampire Hunter Abe steals Jesse Pinkman's job (not the meth-making one)
Watch the trailer for the spy drama  The Americans, starring Keri Russell
Portlandia sets a return date and announces a winter special watch a clip
The Sex and the City prequel Carrie Diaries hits The CW on January 14
The CW's Beauty and the Beast and NBC's Chicago Fire will stick around
... And judging by the big smile on his face, he seems likely to warm up to Leslie pretty quick. Uh, should Ben be worried? [EW]
In other political(ish) news, ReelzChannel and Muse Entertainment are cooking up a sequel to the eight-episode miniseries The Kennedys. Despite some early negative buzz following the History Channel's decision to drop it, as well as the tepid critical response when it finally aired, the show was a solid ratings performer and earned four Emmy nominations.
The follow-up, also an eight-part mini, will be based on J. Randy Taraborrelli's book After Camelot. The narrative is expected to pick up following Robert Kennedy's assassination in 1968. [Deadline]
It seems like every cancelled fan-favorite series pins its hopes on a Netflix rescuscitation these days, doesn't it? (That is, when they're not busy spreading movie sequel rumors.) Sometimes, it even works out.
AMC made the decision to cancel The Killing over the summer, but now the latest word is that the crime drama could get revived on Netflix. AMC, Netflix, and Fox Television Studios are said to be nearing a deal for a third season, which would debut on AMC before moving to Netflix. Showrunner Veena Sud remains on board, as do stars Mireille Enos and Joel Kinnaman. [Deadline]
Benjamin Walker is moving on from hunting vampires to tracking down Cold War enemies. Walker has just signed on for HBO's pilot The Missionary, about a young American missionary (Walker) in Berlin in the '60s. He gets involved with the CIA while trying to help a young woman get out of East Berlin.
Sound familiar? That may be because Aaron Paul was actually in talks for the lead several months back. However, the Breaking Bad star was unable to commit and Walker wound up taking his place. The series comes from Charles Randolph, Malcolm Gladwell, Steve Levinson, and Mark Wahlberg. Baltasar Kormakur will direct. [Deadline]
But The Missionary is just one of two Cold War-themed TV series in the works. FX has The Americans, starring Keri Russell and Matthew Rhys as a suburban couple in the early '80s. Only they're not as normal as they look — they're actually KGB spies, unbeknownst to even their two children. Check out the trailer below:
The Americans will debut in January. [via Cinema Blend]
Also premiering early next year is the third season of Portlandia, which kicks off January 4 at 10:00 PM on IFC. But fans will first be rewarded with a wintertime special in just one month. "Winter in Portlandia" airs December 14 at 10:30 PM, with typically silly-sounding plotlines including holiday season weight gain for Peter and Nance, a visit to the feminist bookstore for Candace's son, and the "put a bird on it" team's new hotel. Watch the first clip from the new season here:
[via Vulture]
All right, here's one more premiere for January: The Carrie Diaries, the '80s-set prequel to Sex and the City, will make its bow Monday, January 14 at 8:00 PM on The CW. AnnaSophia Robb stars as a 16-year-old version of Carrie Bradshaw, who's giddy over her first internship in Manhattan. Guilty-pleasure teen soap aficionados will want to keep an eye on this one — it comes from Josh Schwartz and Stephanie Savage, the duo who previously gave us The O.C. and Gossip Girl. [Vulture]
Let's finish up with a couple of quick updates on some freshman dramas...
The CW has given a full-season order to Beauty and the Beast, its fantasy-inspired drama featuring Kristin Kreuk as a beautiful cop and the male model handsome, really-not-monstrous-at-all Jay Ryan as her Beastly savior. Beauty and the Beast is The CW's second pickup this season, after Arrow. [Variety]
And NBC is moving ahead with a full season of Chicago Fire, the Dick Wolf-produced firefighter drama starring Taylor Kinney, Jesse Spencer, Eamonn Walker, Monica Raymund, Charlie Barnett, and David Eigenberg. While the show hasn't been a runaway hit, it's managed to hold its own over the weeks. [Deadline]