New 'Oz: The Great And Powerful' Poster Takes The Kitchen-Sink Approach, With Hideous Results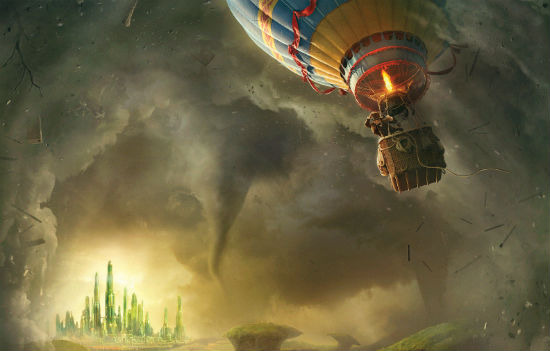 One of the most intirguing aspects of Sam Raimi's Oz: The Great and Powerful has been its eye-popping aesthetic. Earlier posters and the trailer were filled with dazzling color and lush landscapes — which, okay, were more than a little reminiscent of Tim Burton's Alice in Wonderland, thanks to the involvement of production designer Robert Stromberg. But the visuals weren't really the big problem with that movie.
The latest poster retains the same fairy tale feel, but then cranks it up way, way too high. There's a little bit of everything here, from flying monkeys to teapot houses and a fat, happy munchkin, but the slapdash way they're thrown together makes the poster makes it look less like a professional piece of work than a slapdash collage assembled by a hyperactive kid emulating Lisa Frank. See it for yourself after the jump.
The individual components don't look so awful. I even kind of like that so-ugly-it's-cute thing up in the top left corner. But the crowded, haphazard arrangement makes the poster as a whole look laughably hideous. Suddenly, that character overload approach doesn't seem like such a bad idea, especially when the stars of this particular film include James Franco, Michelle Williams, Mila Kunis, and Rachel Weisz.
Oz: The Great and Powerful opens March 8.
Disney's fantastical adventure "Oz The Great and Powerful," directed by Sam Raimi, imagines the origins of L. Frank Baum's beloved character, the Wizard of Oz. When Oscar Diggs (James Franco), a small-time circus magician with dubious ethics, is hurled away from dusty Kansas to the vibrant Land of Oz, he thinks he's hit the jackpot—fame and fortune are his for the taking—that is until he meets three witches, Theodora (Mila Kunis), Evanora (Rachel Weisz) and Glinda (Michelle Williams), who are not convinced he is the great wizard everyone's been expecting. Reluctantly drawn into the epic problems facing the Land of Oz and its inhabitants, Oscar must find out who is good and who is evil before it is too late. Putting his magical arts to use through illusion, ingenuity—and even a bit of wizardry—Oscar transforms himself not only into the great and powerful Wizard of Oz but into a better man as well.