'The Last Stand' Trailer: Boom, Boom, Boom, Boom!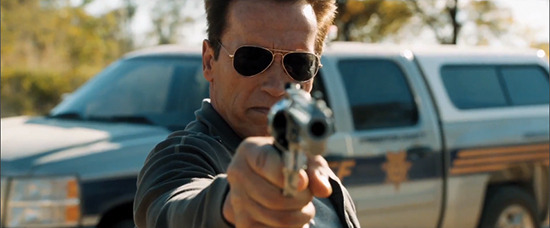 The first big film in Arnold Schwarzenegger's star comeback was The Expendables 2, which expanded on his appearance in The Expendables, but didn't give Arnie a movie of his own to play with. He takes center stage, however, in The Last Stand, with South Korean director Kim Jee-woon (The Good, the Bad, the Weird; I Saw the Devil) making his English-language debut.
The film casts Arnie as an LA cop sent out to pasture as a small-town sheriff, who ends up being the last guy who can stop a cartel boss intent on fleeing south across the border. One trailer already played up the star's age and the film's action. Now a new trailer explains the setup in more detail, and shows off some of the moments in Schwarzenegger's small-town life before the shit really starts to hit the fan. It also hints at a lot of action and thrills. There better be some payoff with that sword, is all I have to say.
Check out the trailer below.
So, not the strongest effort in terms of story, it seems, but the clear emphasis is on action. And in that respect it looks like Kim might be ready to deliver.
The Last Stand also features Forest Whitaker, Johnny Knoxville, Jaimie Alexander, Luis Guzman, Peter Stormare and Genesis Rodriguez. It opens on January 18th, 2013. Trailer is via boxofficeBUZ.
After leaving his LAPD narcotics post following a bungled operation that left him wracked with remorse and regret, Sheriff Ray Owens (Schwarzenegger) moved out of Los Angeles and settled into a life fighting what little crime takes place in sleepy border town Sommerton Junction. But that peaceful existence is shattered when Gabriel Cortez (Eduardo Noriega), the most notorious, wanted drug kingpin in the western hemisphere, makes a deadly yet spectacular escape from an FBI prisoner convoy. With the help of a fierce band of lawless mercenaries led by the icy Burrell (Peter Stormare), Cortez begins racing towards the US-Mexico border at 250 mph in a specially-outfitted Corvette ZR1 with a hostage in tow. Cortez' path: straight through Summerton Junction, where the whole of the U.S. law enforcement, including Agent John Bannister (Forest Whitaker) will have their final opportunity to intercept him before the violent fugitive slips across the border forever. At first reluctant to become involved, and then counted out because of the perceived ineptitude of his small town force, Owens ultimately rallies his team and takes the matter into his own hands, setting the stage for a classic showdown.