Sequel Bits: 'Muppets 2', 'Wreck-It Ralph 2', 'Roger Rabbit 2', 'The Girl Who Played With Fire', 'Skyfall', 'A Good Day To Die Hard', 'Star Trek Into Darkness', 'Red 2'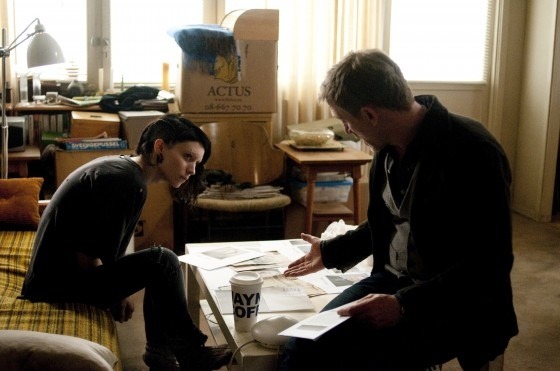 Could Sean Connery return to the Bond franchise? Believe it or not, it almost happened a third time. Also after the jump:
The Muppets shoots this winter, Bret McKenzie returns to write more songs
Wreck-It Ralph director Rich Moore has ideas for a sequel
Robert Zemeckis isn't planning a Roger Rabbit sequel
Daniel Craig says Dragon Tattoo sequel needs a script
Watch a montage of A Good Day to Die Hard filming
Star Trek Into Darkness will be released in Dolby Atmos
Producer Lorenzo di Bonaventura talks about Red 2
In other Muppets news, composer Bret McKenzie is set to return with all new songs. His tunes in the last movie included the Oscar-winning "Man or Muppet?" though if you ask me, "Life's a Happy Song" was way better. One person who won't be back is Jason Segel's Gary, but it looks like Bobin will fill that gap with several fresh faces, such as Christoph Waltz as an Interpol agent and some new Muppets. The currently untitled sequel is slated to hit December 20, 2013. [Collider]
Wreck-It Ralph turned in a very solid performance at the box office this past weekend, which, naturally, means talk of a sequel can't be far off. Director Rich Moore, for one, says he's ready. During a Reddit IAmA session, Moore responded to a question about a possible Wreck-It Ralph 2 with enthusiasm. "I would jump on it in a New York minute– I LOVE these characters and the people who play them," he wrote. "And yes, Vanellope indeed rocks!"
As for what that sequel might look like, Moore already has a few ideas. Speaking to GamerHub.TV, he revealed:
Should we be so lucky to do a sequel, I think it'd be great to explore online gaming, home games. We have some ideas of how we could — it was fun to begin it in an arcade. And I think that that really tapped into the nostalgia that that has attached to it. But if we were to do a sequel I think we need to bring it up to date. We're working on ideas, should we do one, that would bring it more into modern gaming, not just arcade cabinets.
[via The Disney Blog]
The news isn't all good for Disney fans, however. Plans for a sequel to 1988's Who Framed Roger Rabbit? have been in the works for a long, long time, but director Robert Zemeckis says there's little movement on it at the moment.
"I'm not planning any sequel," he said in a recent interview. "All I know is there a draft for a sequel sitting at Disney [written by Peter S. Seamond and Jeffrey Price]. It's good, but I don't know what's going on, it's just a great script sitting." [The Playlist]
Moving on to less kid-friendly franchises: Daniel Craig is best known as the current face of the Bond franchise, but in theory he's also the lead of the Dragon Tattoo trilogy. I say "in theory" because the prospective series has only yielded one installment so far. Nor does that seem likely to change in the very near future. At a press event for Skyfall, Craig gave a candid reply when asked whether there was any word on The Girl Who Played With Fire.
"Not as yet. Not as yet. We're waiting around, waiting for a script and all those things," he said. "Talk to the Sony people, they're in charge." Of course, Sony's financial woes means they may not have any good news to give, either. [Collider]
While we're (sort of) on the topic, did you know the original Bond and the latest Bond almost crossed paths in Skyfall? Sam Mendes revealed that he almost had a role for Sean Connery in the movie, before ultimately deciding against that nifty bit of stunt-casting. (Some Skyfall spoilers follow.)
In Skyfall, Albert Finney plays the groundskeeper of the Bond family estate. However, Mendes says Connery was actually an early favorite for the part:
There was a definite discussion about that — way, way early on. But I think that's problematic. Because, to me, it becomes too... it would take you out of the movie. Connery is Bond and he's not going to come back as another character. It's like, he's been there. So, it was a very brief flirtation with that thought, but it was never going to happen, because I thought it would distract.
No doubt that would've been an amazing cameo, but Mendes probably has a point. Maybe they can come up with a way to work him into the next movie? Skyfall opens this Friday. [Movies.com]
/Film reader Attila Hasznosi sent in the video montage below of A Good Day to Die Hard shooting in Budapest, featuring a goofy Bruce Willis, a gun-toting mannequin, some crazy vehicular maneuvers, and a fair amount of explosions. Hasznosi writes that the footage mostly comes from a car chase scene which took 76 days to shoot.
A Good Day to Die Hard opens February 14, 2013.J.J. Abrams' Star Trek Into Darkness won't skimp on the audio. Dolby issued a statement today announcing that the sci-fi sequel would be mixed and released in the immersive Dolby Atmos system.
If you're not quite sure what that is, here's how I explained it a few months ago: "The Atmos system aims to create a 'lifelike' sound with speakers placed all around the auditorium and across the ceiling, and can transmit up to 128 discrete sound objects." Hear the difference, or at least try to, when the movie opens May 17.
Finally, here's a quick link to an interview with Red 2 producer Lorenzo di Bonaventura, in which he discusses the sequel in greater detail — the plot, the characters' emotional arcs, how director Dean Parisot got the job, and more. Red 2 opens August 2, 2013.