Second Bloody Red-Band 'Maniac' Trailer Goes For Unsettling Intensity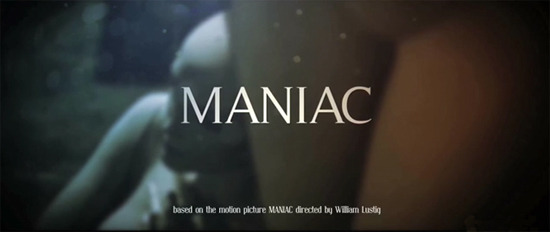 Yesterday, when writing up Silent Night, I mentioned the new version of Maniac that has been doing festival rounds. In this remake of William Lustig's super-creepy '80s exploitation classic, Elijah Wood plays the title character, a photographer who has some very violent problems with women.
This version is set in LA, rather than NYC, but more crucially tells the story from Wood's point of view. Footage we've seen in the past suggested that the movie doesn't pull many punches, and this new red-band trailer hammers that point home. This is not in any way safe for work, or for people who don't like scenes of messed-up violence tinged with sexual and familial frustration. 
(If you can't see that YT embed, Twitch has another version.)
There's been plenty of talk in the past few months about whether the film works or not, since it premiered at Cannes and then moved on to other tests. Everyone seems to agree that the film is particularly violent and intense, and that comes across here in a big way.
There's no US date for Maniac yet, but the film, directed by Franck Khalfoun (P2) based on a script by Alexandre Aja (High Tension, Piranha 3D) opens in France next month.
Just when the streets seemed safe, a serial killer with a fetish for scalps is back and on the hunt. Frank is the withdrawn owner of a mannequin store, but his life changes when young artist Anna appears asking for his help with her new exhibition. As their friendship develops and Frank's obsession escalates, it becomes clear that she has unleashed a long-repressed compulsion to stalk and kill.
A 21st century Jack the Ripper set in present-day LA, MANIAC is a re-boot of the cult film considered by many to be the most suspenseful slasher movie ever made – an intimate, visually daring, psychologically complex and profoundly horrific trip into the downward spiralling nightmare of a killer and his victims.