First Looks: 'White House Down' And 'Last Vegas' [UPDATED With Higher-Res Images]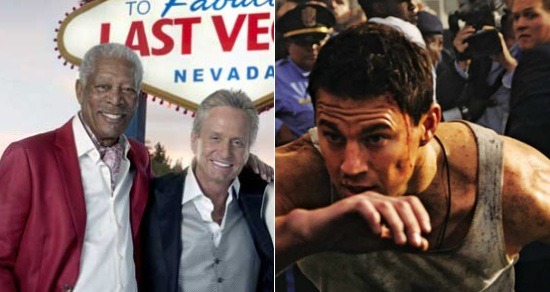 UPDATE: Thanks to 
, we've been able to update the post with higher-res versions of the same images. Click through to take a look.
As the nation decides who'll get to take control the White House for the next four years, Channing Tatum's been running around trying to save it from takeover by evil forces. Actual evil forces, that is, not "evil forces" as a particularly low insult for the opposing party. White House Down sees him playing a former cop who tries to protect the President (Jamie Foxx) when 1600 Pennsylvania Avenue is invaded by a paramilitary group. See Tatum doing his best "Bruce Willis in Die Hard" impression after the jump.
Meanwhile, we also have the first snapshot of Morgan Freeman, Michael Douglas, Robert De Niro, and Kevin Kline looking sharp in Last Vegas, described as a sort of Hangover for the silver-haired set. Check that out after the jump as well.
We've previously seen some video from White House Down
, but this first batch of photos comes courtesy of
(via
). It looks pretty much like what you'd expect based on the plot synopsis, but that's not a bad thing. Tatum's progression from neatly dressed Secret Service wannabe to battered, bloodied hero is pretty evident here, and we look forward to finding out what badass moves made that happen.
Maggie Gyllenhaal plays a Secret Service agent who has some kind of history with him. James Woods, Richard Jenkins and Jason Clarke also star in the Roland Emmerich-directed film, which hits June 28, 2013.
The first photo for Last Vegas doesn't tell us much, other than that these old guys are all snazzy dressers. Not many men, of any age, could pull off Freeman's oxblood suit and paisley ascot combo. The quartet star as longtime friends who convene for a rowdy time in Vegas when the lifelong bachelor among them finally decides to tie the knot. Jon Turteltaub directs, from a script by Dan Fogelman. The film is due out December 20, 2013.