Is Hollywood Considering A Sequel To 'Casablanca?'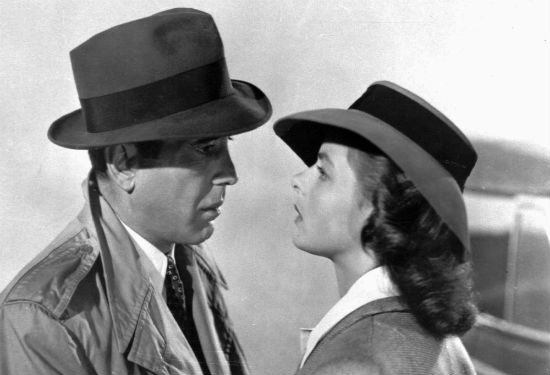 In today's Hollywood, when a film opens big on Friday morning, the sequel goes into development Friday afternoon. Screenwriters are sometimes preemptively hired to write follow-ups to in production films on the off chance it's a big hit. Most people credit that mindset with the rise of the blockbuster in the 1970s but blockbusters didn't start there. Some of the most successful movies of all time were released well before and very few had aspirations beyond the end credits.
One example of that is Casablanca, inarguably one of the best films ever made. Since its release 70 years ago, fans obviously discussed the where abouts of Rick (Humphrey Bogart) and Ilsa (Ingrid Bergman) but few likely thought they'd ever see a sequel. However, a article in the New York Post reveals we've been closer than expected on numerous occasions and one film in particular, Return to Casablanca, could still get made. Based on an 1980s treatment by one of the original writers, Howard Koch, the story takes place about 20 years after the original film with Rick and Ilsa's son returning to search for his biological father.
Read more after the jump.
All this info comes from the New York Post (via The Film Stage) whose must read article details the history of possible Casablanca 2's, including films called Brazzaville and Passage to Marseilles.
Kock began work on Return to Casablanca in 1980 and by 1988, released the following synopsis:
[Ilsa and Laszlo] attempted to locate Rick after he and Renault left to join the Free French forces opposing Rommel in North Africa. They have had no success. After leaving Casablanca for America, Ilsa learned she was pregnant. She gave birth to a boy who grew up in America. The real father of the boy, it turns out, was not Laszlo but Rick. He was conceived the night Ilsa came to Rick's place to plead for the Letters of Transit...The secret was not kept from Laszlo, but being the kind of man he was and owing so much to Rick, he adopted the child and treated him as his own son. The boy was named Richard, and he grew up to be a handsome, tough-tender young man reminiscent of his father. He had been told the truth about his origin and has a deep desire to find his real father, or at least more about him, since Rick's heroic at actions in Casablanca have become legendary. Richard finds himself very much a stranger in the Arab world, a world now under Arab rule since the expulsion of the Germans and Vichy French who occupied Casablanca during the war.
According to the Post, Warner Bros. passed on the film in 1989 and again 2010 when Cass Warner, granddaughter of WB co-founder Henry Warner, pitched it as a perfect film to release on the occasion of their 90th anniversary in 2013. However, Warner said "They indicated they were willing to revisit this if I could find a filmmaker they were interested in working with." Producers say Joseph Gordon-Levitt could be a great Richard.
So to answer the original question, is Hollywood considering a sequel to Casablanca? Yes. But unless a major filmmaker falls in love with Koch's story, it's not looking likely.