'Star Wars' Bits: Timothy Zahn's Thoughts, Mark Hamill's Old Predictions, George Lucas's Plans, Rumored Director Short List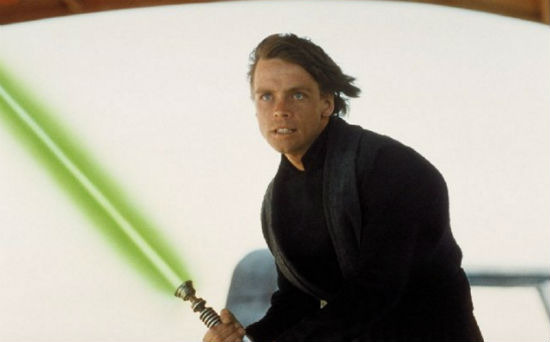 Less than a week after the bombshell that a new Star Wars movie is two and a half years away, the Internet has shifted into full on minutia-examination mode. Every single quote, angle and rumor is being overanalyzed. While the film world still tries to gets its head around this news, here are just a few of the most recent bits of news, rumors and more.
Novelist Timothy Zahn discusses his novels and predictions for Star Wars Episode VII.
Watch what Mark Hamill said about Episode VII almost 30 years ago.
George Lucas talks his post LucasFilm filmmaking plans and if he'll have an hand in choosing the director.
How one U.S. state is already making their plea for Episode VII to shoot there.
Rumors of storylines, a fourth trilogy and a director short list including Neill Blomkamp, Steven Spielberg, Matthew Vaughn & Alfonso Cuaron.
Read about all of it after the jump.
As discussed last week, Star Wars Episode VII will not be based on Timothy Zahn's Thrawn Trilogy, the extended universe sequel most fans consider as close to canon as anything else. Still, Entertainment Weekly spoke to the director about LucasFilm possibly using some of his ideas (his stories named Han and Leia's kids, he created Luke Skywalker's love interest Mara Jade, etc.) and he said he was pretty sure his story wasn't going to ever be part of Lucas's idea:
The original idea as I understood it— and Lucas changes his mind off and on, so it may not be what he's thinking right now – but it was going to be three generations. You'd have the original trilogy, then go back to Luke's father and find out what happened to him [in the prequels], and if there was another 7th, 8th, or 9th film, it would be Luke's children. The Thrawn Trilogy really would have fit into the gap.
He also offered a very smart prediction on where the films should go to make them feel more like the original films:
I'd love to see a good father-son, or mother-son, or daughter story. I'd like to see family. We haven't seen a lot of good family stuff in Star Wars. A lot of it has been dysfunctional, and driven by somebody else. Anakin was a slave and manipulated all his life. Luke and Leia never knew each other...Some family interaction would be something different for the new movies to do – against the backdrop of excitement and adventure that forms the basis of Star Wars. There are a lot of directions you can go with the Skywalker families and really kick some serious butt.
Head to EW for much more from the director with such a unique perspective on the series.
A Reddit user (via IO9) found this 1983 interview with Mark Hamill as he told Maria Shriver at the time of Return of the Jedi about its sequel. 3:06 is where it really kicks in.
In that interview he said the films would be released in 2004. In this interview, he said 2011. So I wouldn't take any of this too seriously.
George Lucas also showed up at Ebony magazine's Power 100 Gala over the weekend (via the Associated Press) and continued to sing the same old song about the fact that he's going to continue to make movies, "little personal films."
I'm going to go further out than [my last film, Red Tails]. I barely got Red Tails into the theaters. The ones I'm working on now will never get into the theaters.
In the same article, he confirmed it would primarily be Kathleen Kennedy who'll be choosing the latest film's director, saying "She's more than capable of taking it and making it better than I did."
TheForce.net was alerted to an article in the Columbus Dispatch in Ohio that the state recently renewed a lucrative tax credit for filming, one that Disney exploited with The Avengers. They believe that might be incentive for the company to shoot Episode VII there. Is that a stretch? Most definitely, but you've got to love the initiative.
Finally, Marketsaw claims to have exclusive insider details on the series. Their source says Luke Skywalker and the original trilogy characters are still at the center of Episodes VII-IX and that a fourth trilogy, X-XII, would focus on their offspring. That goes against almost every other educated guess from sources but, at this point, anything is possible and worth at least thinking about. Either way, an insistence on keeping the tone in tune with the original trilogy, and a respect for those films, are highlighted.
They also claim to have a potential director short list:
Any surprising or exciting names on that list? Head to that site to read more about their "100% confirmed" info but, still, hold it with a huge grain of salt. Nothing is confirmed until Disney releases a press release.