Guillermo Del Toro Hoping To Do DC Comics Monster Team Film Called 'Heaven Sent;' 'Crimson Peak' Moving Forward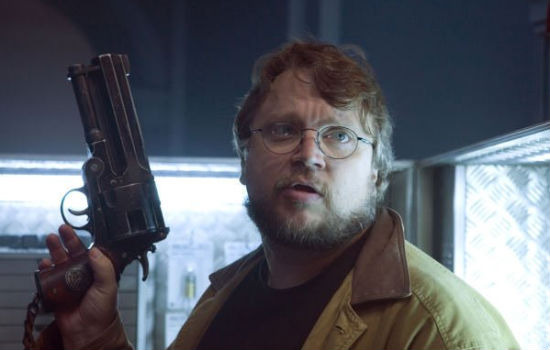 The crew at Latino Review is working overtime, dropping a slew of interesting scoops with one standing tall above the others. Rumor has it that Warner Bros. is extremely happy with what they've seen of Guillermo Del Toro's Pacific Rim (they aren't the only ones) and has given the director his pick of the litter of studio projects. But instead of choosing to direct the obvious superhero team-up film Justice League, Del Toro reportedly wants to do something similar, but with his own twist.
The idea is called Heaven Sent and it would combine several of the magical, spectral beings in the DC Comics Universe into one movie. Characters like Deadman, The Spectre, Swamp Thing, Hellblazer, Phantom Stranger, Zatanna, Zatara, Sargon and Etrigan the Demon. According to the article, Warner Bros. currently has its lawyers trying to untangle the rights to all of the characters involved and, if that happens, then maybe the project moves forward.
Read more after the jump, including when we might see his haunted house film Crimson Peak.
The news comes from a trusted Latino Review source who clearly states "this one is a ways away." Del Toro always has a lot on his plate but a film combining all of his passions (comics, monsters, the supernatural) would probably rank as some kind of twisted dream project. If rights get cleared, that might mean it moves to the top of the list, ahead of Haunted Mansion, Frankenstein, and about a half dozen other potential directorial projects.
As far as I can tell, the title "Heaven Sent" has been used in comics before, but not for this particular DC-themed team up. That leads me to believe the idea itself is something Del Toro conjured out of thin air (likely with some basis in an obscure run of the Swamp Thing comics or something). Either way it sounds intense.
The one problem, though, is the material is obviously dark. Would it potentially to run into the studio issues the director had with his last dream project, At the Mountains of Madness? The film was deemed too dark to warrant a big budget and was canned.
Consider this a rumor now, one that we might trudge up again in five years, but now you know.
Also mentioned in the Latino Review report and related to Del Toro is that Universal, who signed a deal with the director some years ago, might finally be moving forward with Crimson Peak, a haunted house screenplay he co-wrote with Matthew Robbins. The rumor is the studio might begin shooting the film in 2013, but Del Toro will only produce. They've had the script for about four years.