TV Bits: 'Shameless', 'Hannibal', 'Wilfred', 'Saturday Night Live', Louis CK, Ben Affleck, Nicholas Sparks, Peter Berg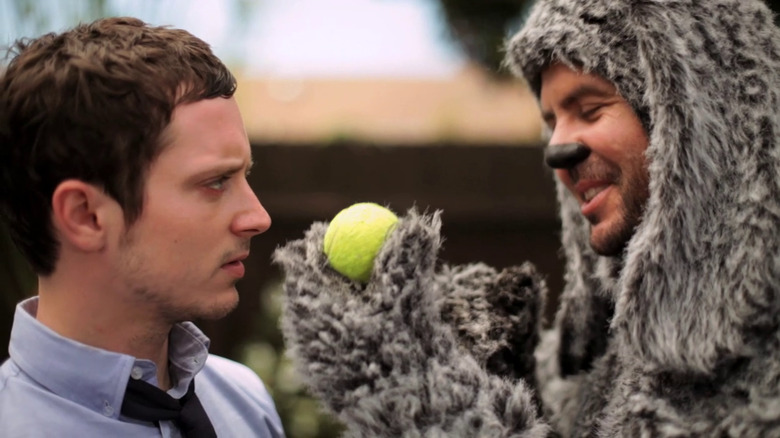 Hit the jump for a mixed bag of small screen odds and ends, including:
See more pics of Mad Mikkelsen in Hannibal
NBC announces some other midseason premieres
Sandy has not delayed Louis CK's SNL appearance
Anne Hathaway and Jeremy Renner will host SNL
The Gallaghers are Shameless as ever in the new teaser
Did you know Ben Affleck almost directed Homeland?
Now Nicholas Sparks is getting into the TV game
FX's Wilfred gets renewed, switches showrunners
FNL's Peter Berg is developing a Greek god drama
The Bryan Fuller-created series serves as a sort of prequel to Silence of the Lambs and other films, centering on Lecter and Graham in the early days of their relationship but moving the setting to the present day. The series will bow midseason on NBC. [EW]
Hannibal's arrival has yet to set an exact date, but NBC's revealed the scheduling for some of its other new and returning shows in the midseason. Here they are in list format:
SERIES PREMIERES:
January 7: Deception (formerly Infamous)
January 10: 1600 Penn
March 31: Ready for Love
RETURNING SERIES:
January 6-7: The Biggest Loser
January 8: Betty White's Off Their Rockers
February 5: Smash
February 7: Community
March 3: The Celebrity Apprentice
March 25: Revolution
March 25-26: The Voice
Click over to Coming Soon to get more details.
Also at NBC: Frankenstorm Sandy's destructive encounter with New York City won't stop America from enjoying host Louis CK on Saturday Night Live this weekend. The sketch show will deliver a new episode as usual this Saturday, November 3, with the grammatically obnoxious Fun. as the musical guest. Watch CK's promos below:
[via Cinema Blend]
SNL junkies may all be interested to know that the sketch series has booked two more high-profile hosts for the fall. Anne Hathaway will appear for the third time on November 10, with fourth-timer Rihanna providing musical entertainment. Then, on November 17, Jeremy Renner will make his hosting debut with another four-time musical guest, Maroon 5. [Variety]
Showtime has dropped its first promo for the third season of Shameless, which picks up months after the end of Season 2. Find out just what the Gallaghers will stoop to for a quick buck in the video below:
Shameless will return January 13 as part of the cable network's "Sinful Sunday" lineup — the Gallaghers will get the party started at 9 PM, followed by House of Lies at 10 and then Californication at 10:30. [Screen Crush]
It's not like Homeland needs any additional help beefing up its pedigree at this point. But back when the show was still coming together, did you know that former pariah / current It director Ben Affleck originally got the offer to direct the pilot?
At the recent Artios Awards, Ben Affleck revealed that he passed on the job because it would've sent him to North Carolina, and he needed to stick close to home to take care of the kids. Ultimately, it was TV vet Michael Cuesta who wound up helming the episode instead. "I was sure nothing would happen with the show," Affleck said to the crowd's amusement. "Now I hate the f—-g show. I've never seen it. I'm going to attach myself to 14 pilots this year." [Vulture]
Having made himself a staple of the romantic movie genre, author Nicholas Sparks is now taking his brand of romantic tearjerker to the small screen. Sparks has three shows developing through his shingle Nicholas Sparks Productions, and amazingly only one of them has wound up on Lifetime.
That one would be Deliverance Creek, a post-Civil War drama that follows a woman caught between helping her family survive and doing the right thing. Meanwhile, over at ABC Family, Sparks is brewing The Falls, a modern-day reimagining of the ultimate doomed love story — Romeo and Juliet.
Finally, he also has A Bend in the Road cooking at TNT, based on his fifth novel. The drama centers around the widowed sheriff of a tourist town in coastal Georgia, who falls for his kid's second grade teacher. [THR]
FX's Wilfred has just been renewed for a 13-episode third season, which will see some big changes behind the scenes. David Zuckerman has stepped down as showrunner after two seasons, and will now be replaced by writer/producers Reed Agnew and Eli Jorné. The staff shakeup doesn't seem to be a contentious one — Zuckerman will continue to serve as executive producer, and reportedly groomed Agnew and Jorné for the job himself. [Deadline]
Friday Night Lights creator Peter Berg is moving on from star quarterbacks to Greek gods. Berg and Taylor Sheridan (Sons of Anarchy) are developing Olympus, a Fox action drama described as Bourne meets 300. The plot revolves around a descendant of the gods, a soldier-turned-spy who "may just be humanity's last hope." Aren't they always?
Sheridan will write and direct the pilot. The show is actually one of two Greek mythology series coming up at Fox, as the network also has the coming-of-age drama Athena in the works. [Deadline]