Source Says 'Star Wars: Episode VII' Will Be Original Story; How Do Lucas' Old Story Outlines Factor In?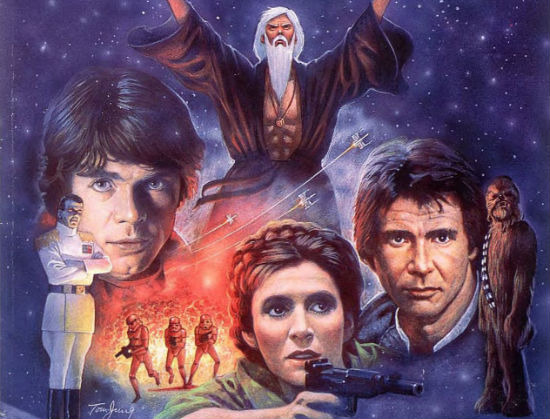 A day after the biggest movie news in recent memory, reactions and speculation about the future of Star Wars are still in hyperdrive.
A new Star Wars trilogy kicks off in 2015 and details about the movies, specifically the opener Episode VII, are in high demand. For most fans, thoughts immediately turned to the Expanded Star Wars Universe: books and comic books set after Return of the Jedi. These feature the original trilogy's popular characters: Luke Skywalker, Han Solo and Princess Leia. It seems almost too easy to grab one of the books, such as the well-regarded Heir to the Empire by Timothy Zahn, and adapt a screenplay from it.
That's not likely to happen. We all know George Lucas had a much bigger story in mind during the early years of Star Wars. It'll likely be those stories the new films are based on. A source tells E! News that the new trilogy will not be based on previously released material, saying "it's an original story." Additionally, a Lucas biographer, who has been privy to the director's private notes, calls chapters seven through nine "the most exciting" stories of Lucas' old outlines. Read their quotes and more after the jump.
Zahn's books, The Thrawn Trilogy, have long been considered by fans to be what happens to the Skywalkers after the fall of the Empire. (Read the story here) However, they aren't George Lucas' work and a source from LucasFilm told E! Online the new trilogy will be "an original story."
What exactly does that original story consist of? Dale Pollock, author of the Lucas biography, Skywalking: The Life And Films Of George Lucas, is one of the few people who was allowed to see Lucas' private notes on the overall story, which at one point was 12 films. In an interview with The Wrap, he said the following:
It was originally a 12-part saga. The three most exciting stories were 7, 8 and 9. They had propulsive action, really interesting new worlds, new characters. I remember thinking, 'I want to see these 3 movies.'
Even J.W. Rinzler, the writer who has been doing extensive and authorized making of books behind A New Hope, Empire Strikes Back and soon Return of the Jedi wrote (in a must read essay) on StarWars.com that he wasn't privy to these writings:
Lucas mentioned these notebooks – or one big book – to me, a few years ago. I asked if I could see it, but he declined. My feeling is that this big book or these notebooks are private, though Lucas has occasionally sent me via an assistant miscellaneous handwritten notes from the period 1976-1983 to help in the writing of the making-of books.
So they exist. Yesterday Lucas said the stories for the three new films Disney is making are from his notes. So Rinzler, Pollock, and E!'s LucasFilm source are probably talking about the same thing.
Back to Pollock. He said the story focuses on Luke Skywalker in this 30s or 40s, which is in line with Rinzer's knowledge of the timeline, which is that 20 years will pass between each trilogy. If the original trilogy characters do appear, expect them to be recast. The chance of Mark Hamill appearing as Luke, for example, is slim to non-existant.
So are you a fan of Zahn's books or do you think Lucas' stories should be adhered to? Obviously, whomever they hire to write and direct these films will have some input. But it's a safe bet that Luke, Leia and Han's fate have not been decided, even if they're generally plotted along the lines of old Lucas ideas.