Roku Introduces Universal Search Feature For Netflix, Hulu, HBO Go, Amazon, And More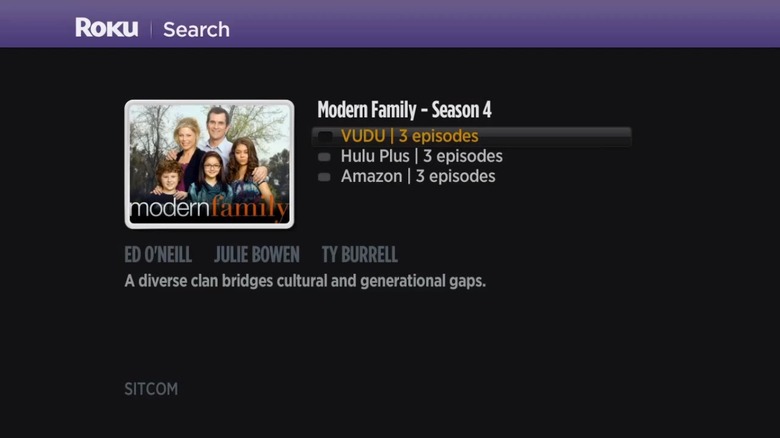 There's no denying that streaming video has been a boon for movie lovers. Where you once had to wait for the local video store to actually stock a physical copy of a film you wanted to watch, now all you have to do if you want to watch, say, Big at home is log onto Netflix and click the "play" button.
Unless Big isn't on Netflix, in which case it's time to comb through HBO Go, Hulu Plus, or Amazon Instant if you already have a subscription. Maybe Vudu or iTunes, if you don't. And then after all that, if it turns out none of the streaming services are offering Big for the price you're willing to pay, you've just wasted ten minutes for nothing. Not the worst thing in the world, but perhaps not exactly how you wanted to use your time.
Yeah, streaming in general is certainly super convenient, but actually finding the exact movie you want isn't always. Enter Roku, which has just added a very helpful universal search feature to its set-top boxes. Now all it takes is a single search to pinpoint exactly which service has Big, and for how much. Hit the jump to read more.
As of now, Roku Search is compatible with Roku 2, Roku LT, newer Roku HD players, and the Roku Streaming Stick, plus Roku iOS and Android apps. Consumers who already have one of the supported devices can expect a free update to roll out over the next week, or, if they're really eager to get things started, head to Settings to update their software. The Roku blog post has more.
It doesn't sound like the new function is perfect. Some reviewers, such as Tech Crunch, have noted that the feature is "still pretty clunky due to the general Roku UI." Even so, they conceded that it was a vast improvement over the old method of searching — i.e., checking into each channel separately. Roku isn't the first company to come up with the idea of a universal search, but that doesn't change the fact that it's a great idea. Here's hoping it catches on soon with other companies as well.