'No Way Out:' Watch The Frightening Fantastic Fest Short Film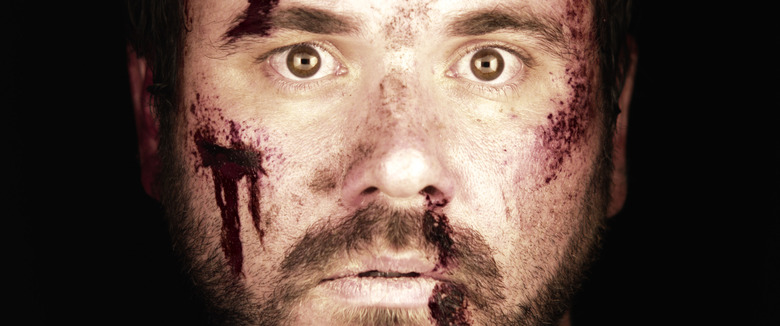 If you've got 10 minutes and a desire for something scary and cool, then we've got the film for you. It's called No Way Out, directed by Kristoffer Aaron Morgan and written by Eric Vespe (yes, Quint of Ain't It Cool News). The short played Fantastic Fest last year and we interviewed the cast and crew about its interesting and collaborative creation.
No Way Out stars A.J. Bowen (The Signal, The House of the Devil, You're Next) as a lost and frightened man stuck in a basement with something unnatural. Until now, it was strickly a theatrical experience but in the spirit of Halloween, the crew has now uploaded the short to the Internet. Check it out below.
Thanks to Bloody Disgusting for the heads up on the film. Here goes.
Last year, almost to the date, we ran an extensive article on the film which you can read if full here. Here's a small excerpt:
No Way Out is filled with "old Hollywood tricks." It's quiet and frightening and the pair knew that in making it, they'd be making a calling card for the kind of tone they want their movies to have, even if it's not commercial. "This is very abstract," Morgan said. "In short subject, you can really force people to think more than tap dancing on the tip of their nose."
The film certainly does that. Bowen speaks all of three words, there's some kind of monster and then a scene that looks like a mix of Hannibal and The Matrix. I'll leave the rest to the imagination.
And even with a weird, abstract little movie like this, the trio never discussed the end game. It was only about making the best possible product and doing it in a very professional manner. Once production was done, they made a 4k master, a 5.1 digital sound mix and, when it was ready, decided Fantastic Fest, a place known for debauchery, alcohol and great films, was the best place to premiere it. "We wanted it to be a very theatrical experience," said Vespe. "And Fantastic Fest is like family."