'Stoker' Poster And Video: Nicole Kidman And Mia Wasikowska Drawn Into Twisted Family Tension
Park Chan-Wook's Stoker is one of the film's we're most keen to see in the early months of 2013; the English-language debut of the director behind Thirst and the "Vengeance Trilogy" (Sympathy for Mr. Vengeance, Oldboy, Sympathy for Lady Vengeance) holds a lot of appeal. That's in part due to Park's wonderful work with the camera and actors, as seen in most of his previous films. But there's also the appeal of him tackling a story with explicit Hitchcock references and a talented cast that includes Mia Wasikowska, Nicole Kidman, and Matthew Goode, the three of whom play a strange family unit that comes together in the aftermath of a death in the family.
The first teaser poster for the film artfully brings together some of the story elements, and corrals them in a stark frame of thorny growth that aptly visualizes the characters' twisted entanglements. Check it out in full below, along with a video showing the poster's creation.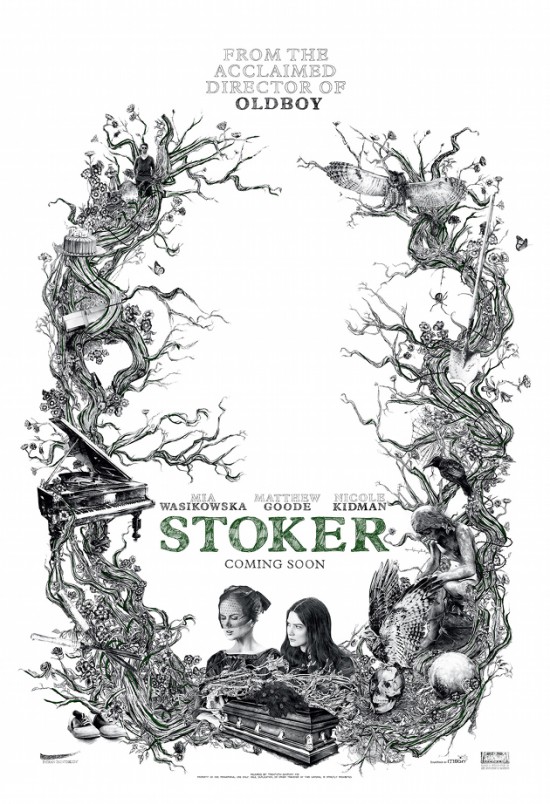 If you want to see more, here's a nice little video, from Empire, showing the creation of the poster, along with some new footage for the film. This look at the movie feels a bit spoilerish, so you've been warned.
Finally, on the off chance that you missed it in the past 24 hours, here's the first track from the Stoker soundtrack to hit the web in full. It's called 'Becomes The Color,' and the artist is Emily Wells. This is a good track, with a mixture of electronic sounds and strings that captures the general feel of the trailers, and a forward momentum that allows the song to stand on its own.
Stoker opens on March 1, 2013.
After India's (Wasikowska's) father dies in an auto accident, her Uncle Charlie (Goode), who she never knew existed, comes to live with her and her emotionally unstable mother Evelyn (Kidman). Soon after his arrival, she comes to suspect this mysterious, charming man has ulterior motives, but instead of feeling outrage or horror, this friendless girl becomes increasingly infatuated with him.