Jon M. Chu Offers Updates On 'G.I. Joe: Retaliation' And 'Masters Of The Universe'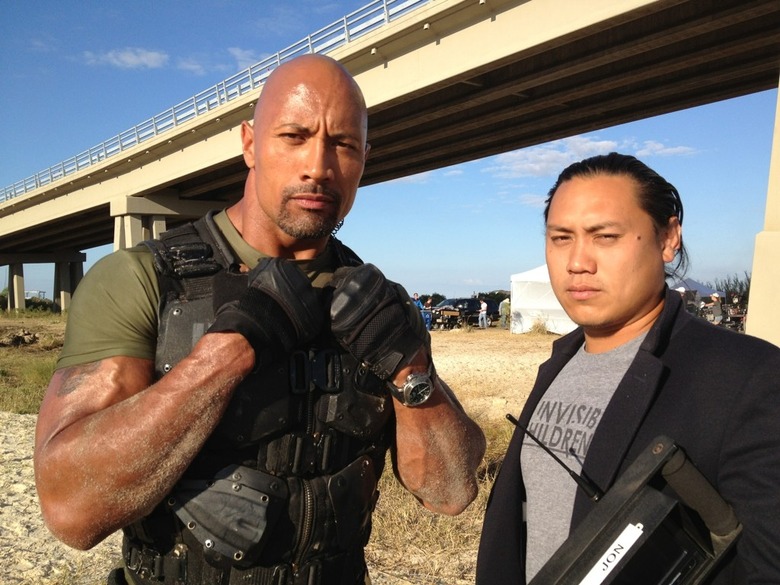 Director Jon M. Chu has quickly become one of those directors whose quotes you need to read. After gaining notoriety with the Step Up movies and Justin Bieber documentary, Paramount entrusted him with one of their marquee franchises: G.I. Joe. Then Sony handed him the reigns to another potential franchise, Masters of the Universe. That's a nice step up (pun intended) from dance TV shows.
In a new interview, Chu offered some significant updates on the status of G.I. Joe Retaliation, which was delayed so that (reportedly) the director could convert the film to 3D, as well as on Masters of the Universe, which is based on the popular Eighties cartoon and toy line . Read his quotes after the jump.
Chu spoke to MTV Geek (via SHH) about both films. With G.I. Joe Retaliation arriving significantly sooner, we'll start with that.
The director is still working very hard on the 3D for the film, knowing fans were upset with the delay and wants to make it worth the wait:
I really want to push how we use the 3-D. Especially since we pushed the movie date, I want to fulfill the promise to the fans that the 3-D will be great, and enhances the experience of the movie. So every step of the way, I'm in that room, watching... It's hurting my eyes, but we're getting it better, and pushing it further.
Many fans are worried that Retaliation wasn't shot in 3D but Chu assures them, having shot in the format with Step Up 3D and Justin Bieber: Never Say Never, he knows the difference and has been working with it:
If we had shot it in 3-D, there's a lot of things that we would shot in a 3D way. Fortunately, a lot of our shots, I guess it was in my brain anyway. We had a lot of depth in our shots, or let our shots play longer. For me, if we're going to do this, we have to make sure it enhances the experience. That's where we are right now, and it's a slow painful process, to be honest!
And in a surprising turn of events, he says he's still trying to convince Paramount to let him do non-3D enhancements:
I'm trying to convince them to give me a couple days to do a couple of enhancements. But as of right now, we'll see what they let me do. I really want to shoot some of the sections in 3-D to give it that edge... But we'll see if time permits, and they're down to do that.
What that could be will likely have to wait till the next interview, but either way G.I. Joe Retaliation will be out March 29.
Moving onto Masters of the Universe, Chu said they were still extremely early in the process:
We're working on the script, to make it better and stronger. We're designing a bunch of stuff. I learned on Joe that to make it right, you have to do a lot of experimenting first, and you have to trust that during the process you'll find where the tonal line is... It's so delicate.
And while fans love to speculate about who could play the iconic roles like He-Man, Skeletor and She-Ra, Chu said it's way to early to have that discussion seriously:
A lot of people ask, who are you going to cast? We're not even there yet, we're just trying to get the character of the movie down. This is one of the most fun parts, where all the possibilities are open, and we're just playing in the sandbox.
Are you a Jon M. Chu fan? Do you think these movies will live up to their lofty expectations?