Eli Roth Borrows Werner Herzog's Tactics To Shoot Cannibal Movie 'The Green Inferno'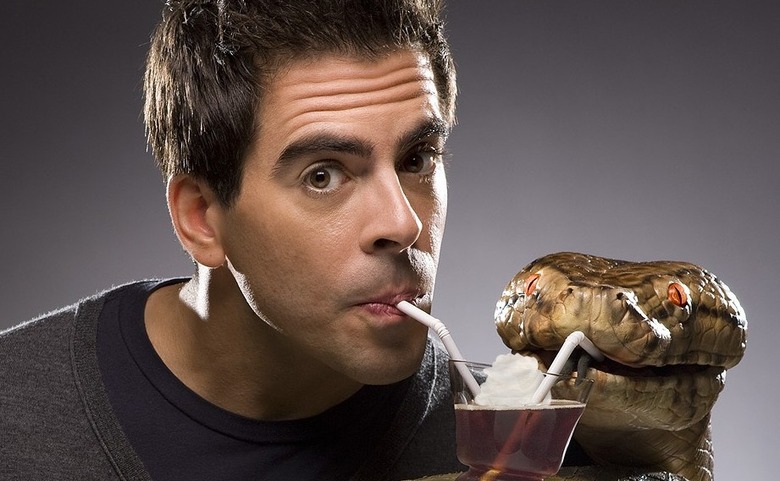 In a move that's somewhere between hilarious and tasteless (veering sharply towards the latter), producers of Eli Roth's latest film have given a remote Amazon village its first, er, taste of the movies...by showing the famed exploitation film Cannibal Holocaust. But let's back up. Roth returns to screens this fall via the festival entry Aftershock, which he produced and stars in, and with RZA's The Man With the Iron Fists, which he co-wrote and produced.
But Roth is also getting set to direct once more, for his first film since Hostel: Part II. The movie is The Green Inferno, in which "naive do-gooders" run afoul of South American cannibals. Roth plans to shoot the film Herzog style, by taking a small crew to a remote native village on the Amazon river, where there's "no electricity, no running water, nothing." And as part of the process of asking permission to film from the locals, the production had to first show them what a movie is in the first place. And so they used Cannibal Holocaust. You can guess what happened next.
Or maybe you can't. The villagers thought the film was a comedy, Roth tells Movieline.
"The location that we found is truly spectacular," he said. "It's so far up the Amazon, no one has ever shot there. The last person anywhere near there was Werner Herzog for Aguirre, the Wrath of God." The village is so remote, in fact, that Roth says locals had never seen a film before. "We said, 'Can we shoot here?' and talked to them, and our producers said 'We have to explain to them what a movie is. They've never seen a television,'" Roth recalled. "So we brought a generator and set up a television. I thought they were going to show them E.T. or The Wizard of Oz, but they showed them Cannibal Holocaust to see how much they could handle....The villagers thought it was the funniest thing they'd ever seen."
So that worked out OK. And I do like the idea of retreating to a totally remote location to shoot a horror film, even if in doing so Roth is inviting comparisons to Herzog films like Aguirre and Fitzcarraldo, which very few movies can hope to match. But I guess if you're going to make a cannibal exploitation film, might as well go as far out on location as possible.
If you want more info on The Green Inferno, here's a bit from today's press release announcing casting:
Principal photography will begin November 5th in Peru on Eli Roth's ("Hostel", "Cabin Fever") The Green Inferno and will star Lorenza Izzo ("Aftershock"), Ariel Levy ("Aftershock"), Aaron Burns, Daryl Sabara ("John Carter", "Machete"), Kirby Bliss Blanton ("Project X"), Magda Apanowicz and actress/singer Sky Ferreria. Worldview Entertainment, a leading independent motion picture production and investment company, is financing and producing the horror thriller, which is directed by Eli Roth and based on a screenplay he co-wrote with "Aftershock" co-writer Guillermo Amoedo. Exclusive Media is handling the international sales to the film that will be presented to buyers at the upcoming American Film Market by Alex Walton, Exclusive Media's President of International Sales and Distribution. CAA, which arranged financing for the film, is handling domestic rights.