VOTD: Claymation 'The Raid' And 'The Thing' Director Goes Red-Band With Holiday Music Video 'Mr. Frosty Man'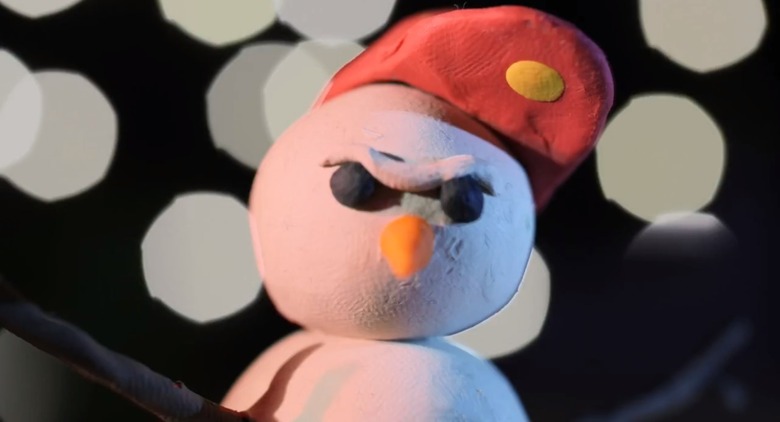 Every year, it seems like Christmas creeps up a little bit earlier. Though the day after Thanksgiving is widely considered the "official" start of the season (at least here in the U.S.), in reality we hardly get a chance to sort through our Halloween candy before the store racks fill up with tinsel and candy canes.
So why not just embrace the calendar creep with a new short that's perfect for both holidays at once? Lee Hardcastle, the animator behind those Claymation remakes of
and
, has just directed a music video titled "Mr. Frosty Man" for a track of the same name from Sufjan Stevens' upcoming holiday album. Minute for minute, it may be one of the most gleefully gory films you'll see all year. Watch the NSFW video after the jump.
After all that, it ends the same way most snowman-centric stories do — with a melting snowman and a sad kid. All right, so this probably isn't appropriate family viewing for households with young children. But for the rest of us, I think this is an instant holiday classic.
Hardcastle has gained quite a following for his Claymation shorts, which include original works as well as retellings of movies like The Raid, The Thing, Hostel, Shaun of the Dead, and more. And his profile is only going up. Earlier this year, Hardcastle won the competition to be included in the horror film anthology ABCs of Death. Drafthouse Films isn't releasing the movie into theaters until next year, but you can watch his entry "T is for Toilet" right here:
[via
]
The ABCs of Death hits VOD January 31 and theaters March 8. Stevens' holiday album Silver & Gold will be released November 13.