'Stand Up Guys' Getting Oscar-Qualifying December Release; 'Zero Dark Thirty' Might Not Open Wide Until 2013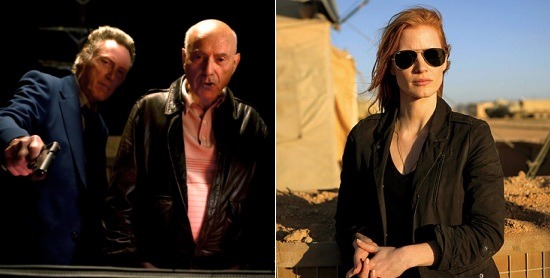 Film release scheduling tends to get tricky around the end of the year. Not only do studios have to weigh all the usual concerns, they also need to keep an eye on the December 31 cutoff date for Academy Award qualification, and so they devise strategies to work around it or use it to their benefit.
Lionsgate is giving Stand Up Guys an awards season push, moving its release date up to December for New York and Los Angeles. Meanwhile, Sony is looking to take advantage of all-but-inevitable Oscar buzz for Kathryn Bigelow's Zero Dark Thirty by scaling back the wide release originally planned for the end of this year. Read more about both decisions after the jump.
On the flip side, Bigelow's Zero Dark Thirty already has some serious Oscar pedigree, since she took home Best Picture and Best Director for Hurt Locker in 2010. Officially, the film is still scheduled for wide release on December 19, but unofficially, according to THR, the studio has told theater owners that the picture may only get a limited NY / LA opening on that date. Zero Dark Thirty will then expand to 10 or 12 more markets on January 4, and then all nationwide markets on January 11.
It's not a coincidence that the Oscar nominations are slated for January 10. The idea is to take advantage of word-of-mouth and awards momentum that Zero Dark Thirty will build in December. At the same time, the strategy allows Zero Dark Thirty to avoid some of the intense competition for box office dollars at the end of the year.