Sequel Bits: 'Jack Ryan', 'Scary Movie 5', 'Universal Soldier: Day Of Reckoning', James Bond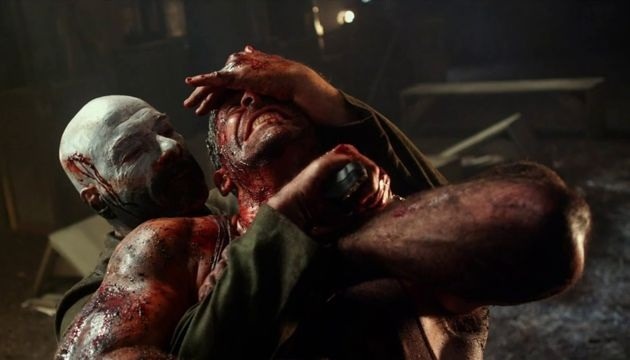 A few sequel-related odds and ends for the afternoon. After the jump:
David Paymer lands a role as a diplomat in Jack Ryan
Katt Williams is the latest to sign up for Scary Movie 5
Sam Mendes probably won't direct more Bond movies
Universal Soldier: Day of Reckoning goes red-band
Jack Ryan sees a younger version of Tom Clancy's famous character uncovering a Russian plot to collapse the American economy. The movie is due out Christmas Day 2013. [Variety]
The already random cast of Scary Movie 5 has just picked up one more star. Actor / comedian / rapper Katt Williams has just signed on for the horror-comedy sequel, joining Ashley Tisdale, Erica Ash, Molly Shannon, Lindsay Lohan, Charlie Sheen, Mike Tyson, Heather Locklear, and more.
The Malcolm Lee-directed spoof features a Black Swan-inspired plotline, about two dancers (Tisdale and Ash) vying for a lead role in a dance production. Scary Movie 5 is scheduled for an April 12 release. [THR]
Daniel Craig and his co-stars may be eager to return for more Bond, but one key Skyfall figure seems ready to move on. During a recent interview, director Sam Mendes indicated that Skyfall would probably wind up being his one and only contribution to the Bond series:
It's been a fantastic experience, but it's been completely exhausting. Do I want to do another one? I'm a shadow of my former self. [laughs] No, I don't know. I felt like everything I wanted to do with a Bond movie, I put into this film. So I would have to be convinced that I could do something that I loved and cared about as much if I was to do it again. I think the great risk of repeating oneself is that one doesn't have the great store of ideas that you have when you first tackle a subject.
Perhaps that creative exhaustion has something to do with the fact that Mendes was working on Skyfall up to the very last minute. The director revealed that he completed the movie October 9, just three days before it first screened for U.K. press on October 12.
Whatever the reason, Mendes has never been a studio franchise kind of guy, so it's not surprising that he seems unintersted in a follow-up. At least we can hope that his excellent work on Skyfall paves the way for more interesting director choices in the series' future. Skyfall opens October 26 in the U.K. and November 9 in the U.S. [The Playlist]
Still not quite sure what to expect from Universal Soldier: Day of Reckoning? The last trailer seemed slightly hampered by its need to keep things nice and PG, but the new red-band trailer gets to ramp up the violence. Scott Adkins plays John, who awakens from a coma determined to get revenge on the man (Jean-Claude Van Damme) who killed his family. Dolph Lundgren and Andrei Arlovski also star in the John Hyams-directed sequel.
Universal Soldier: Day of Reckoning hits VOD tomorrow, October 25, before getting a limited theatrical release on November 30. [Yahoo!]