TV Bits: 'Homeland', 'Mockingbird Lane', 'Elementary', 'Vegas', 'Arrow', 'New Girl', Jane Fonda, Jennifer Garner, West Memphis Three, And More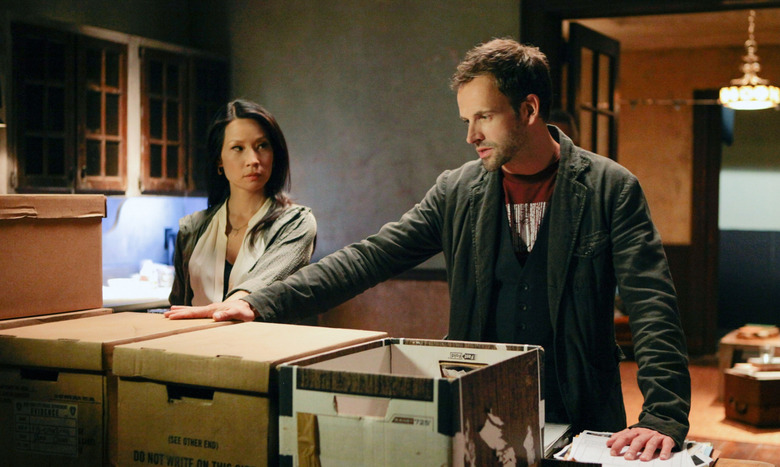 Today's TV Bits centers mostly around renewals, pickups, and projects in development, though there's an interesting holiday-appropriate video in here for you as well. After the jump:
Showtime renews Homeland for a third season
CBS' Elementary and Vegas get full-season orders
CW wants more Arrow, Beauty & the Beast, and Emily Owens
Jimmy Fallon's Guys With Kids gets five more scripts
Big Bang Theory writer is developing Smells Like Teen Spirit
Fox's New Girl and Raising Hope get two more episodes
ABC commits to bar-set Mixology, from Hangover scribes
Jane Fonda books a starring sitcom gig on ABC's Now What?
Boardwalk Empire writer sells Jane Austen and West Memphis Three dramas
Fox is working on non-superpowered superhero comedy The B Team
Jennifer Garner returns to TV as an executive producer
Watch a new clip from NBC's Mockingbird Lane
CBS is showing some love to its two high-profile freshman dramas, Vegas and Elementary. Both shows have just received full-season pickups, bringing each show up to 22 episodes each. Vegas has proved to be the most-watched show of the new season, with Elementary tagging right behind it. [TV Line]
Great news, superhero fans: The CW's Arrow will stick around for a full first season. The pickup was an obvious win, as the show's debut episode was the most-watched CW premiere since Vampire Diaries in 2009. Meanwhile, fellow CW freshmen Beauty and the Beast and Emily Owens, M.D. have received orders for three new scripts each. Not nearly as encouraging as a full-season pickup, but better than nothing. [Deadline]
When NBC's Guys With Kids first aired, it was so savaged by critics that it almost seemed executive producer Jimmy Fallon had ruined all the goodwill he'd built up over the years in one fell swoop. But it apparently has some fans, somewhere, as the network has put in an order for five additional scripts. [THR]
Fox's plans for a powerhouse Tuesday night comedy block seem to be going well. Freshman sitcom The Mindy Project received an order for two episodes on top of its full 22-episode season last week, and now the network is picking up two more episodes each of its returning shows New Girl and Raising Hope as well. Notably, Ben and Kate isn't getting the same treatment — it's been picked up for 19 episodes, not 24. [Deadline]
Moving on to the next crop of shows in development...
If you're in the Venn diagram overlap of Nirvana fans and Big Bang Theory haters, prepare to get riled up. CBS has given a put-pilot commitment to a new sitcom with the working title Smells Like Teen Spirit, by BBT writer Dave Goetsch.
The plot itself, however, has less to do with grunge than tech: An 18-year-old decides to skip Harvard and start an "Internet company," which grows into a multibilillion dollar corporation. Helping him out are his sister, his best friend, and his "1990s indie-rock parents." Guess that's where the title comes from. [THR]
Apparently, Hangover scribes Jon Lucas and Scott Moore aren't just interested in the morning after — they're intrigued in the night before, too. The pair have just sold a comedy spec called Mixology to ABC, about five men and five women seeking connection in Manhattan bar over the course of a single night. It'll be interesting to see how they'll manage to pull an entire season's worth of plotline out of just one evening — even 24 got to pull from a full 24 hours — but I'm a sucker for the "one crazy night" premise when it's done well. [Deadline]
ABC has also bought a comedy pilot titled Now What?, which has Jane Fonda attached to star. The single-camera series centers around a young woman who posts a blog entry titled "Dear Mom, Here's Why I Hate You..." Her mother, played by Fonda, is then inspired to move in with her daughter until the two work out their differences. [Variety]
Boardwalk Empire writer Margaret Nagle is bringing her talents to broadcast TV with two new projects. The first is an untitled drama at CBS, based on Jane Austen's Sense and Sensibility. This version takes place in the world of modern medicine and follows three sisters dealing with the unexpected return of the father who abandoned them in childhood. It's been a while since I read the novel, but does that actually resemble the plot of Sense and Sensibility?
The other is Fox's Paradise Falls, a drama loosely inspired by Joe Berlinger's making of the Paradise Lost documentaries about the West Memphis Three. At the center of the show will be a filmmaker assigned by a crime show to cover a hideous crime in Paradise Falls, Pennsylvania. A closer examination of the facts reveals a system rife with corruption and deceit, with townsfolk more interested in profit than justice. [THR]
On the lighter side of things, Fox is developing a single-camera superhero comedy titled The B Team, from New Girl star Jake Johnson and Ceremony writer/director Max Winkler. The show sees five underdogs forming their own superhero team, though without any actual superpowers they're left to rely on mostly on their wits. [Deadline]
Former Alias actress / current movie star Jennifer Garner is keeping one foot firmly planted on the small screen. Garner is exec-producing an untitled NBC comedy through her shingle Vandalia Pictures. The semi-autobiographical project by Ellen Rapoport centers on an overachieving twentysomething named Allie who falls in with two party girls. Under their guidance, she gets to experience the wild teen years she never had, while she helps them mature into proper grown-ups. [Deadline]
Finally, here's a clip from NBC's Mockingbird Lane, the Bryan Fuller-created reboot of The Munsters. Originally slated as a midseason drama, the show is now being aired as a one-off Halloween special on Friday, October 26. That is, unless it does well enough to change NBC's minds and get turned into a full-fledged series. Watch the scene below and let us know what you think.
[via Coming Soon]