'Iron Man 3' Teaser Trailer: Tony Stark Hits Rock Bottom, Plus Five New Images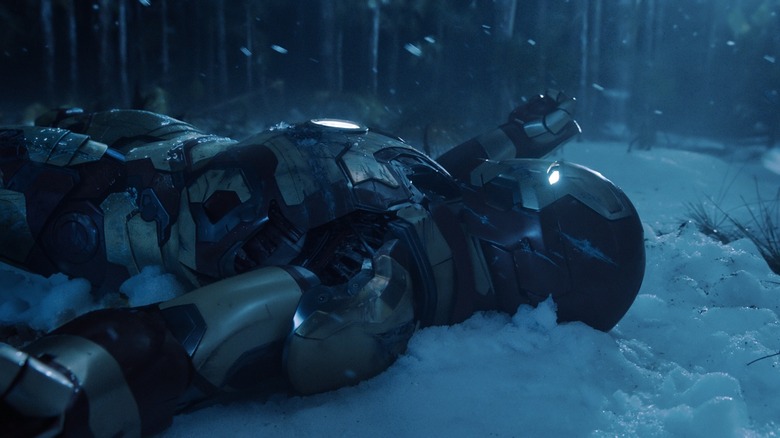 New armors, new villains, same old Tony Stark. Or is it? The first trailer for Iron Man 3 has been released and with it, general audiences can now see what Comic-Con fans saw back in July: The Marvel Cinematic Universe post Avengers is looking mighty good and incredibly dark.
Directed by Shane Black, co-written by Black and Drew Pearce and starring Robert Downey Jr., Gwyneth Paltrow, Don Cheadle, Guy Pearce, Rebecca Hall, James Badge Dale, Jon Favreau and Ben Kingsley, it's scheduled for release May 3, 2013. Check it out after the jump along with some new stills.
Thanks to Apple.com for the trailer. Head there for the high definition or here's an embed.
You'll notice right off the bat here, that Iron Man 3 looks like a downer. Tony Stark is in a bad way, and it seems like the events in The Avengers are the reason. The voice over we hear is The Mandarin who levels Tony's home in an attempt to prove that heroes don't exist. I have a feeling that's not going to be the case, but this trailer add so much more to our conversation about what this movie is going to be.  Plus, don't forget, this movie is still shooting. What do you think of the trailer?
Also over on Apple, in addition to the images from Monday, are even more images from the film. Some very cool stuff.
Marvel Studios' Iron Man 3 pits brash-but-brilliant industrialist Tony Stark/Iron Man against an enemy whose reach knows no bounds. When Stark finds his personal world destroyed at his enemy's hands, he embarks on a harrowing quest to find those responsible. This journey, at every turn, will test his mettle. With his back against the wall, Stark is left to survive by his own devices, relying on his ingenuity and instincts to protect those closest to him. As he fights his way back, Stark discovers the answer to the question that has secretly haunted him: does the man make the suit or does the suit make the man?