Will Frank Grillo Play Crossbones In 'Captain America: The Winter Soldier?' [Update: Yes!]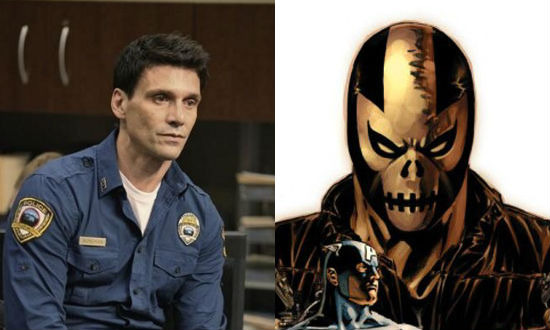 Character actor and all around bad ass Frank Grillo (The Grey, Warrior) might have inadvertently let the news slip that he's soon to be part of the Marvel Universe.
(NOTE: THE TWEET HAS BEEN DELETED. It said something along the lines of "Nice Trip LA, Everyone at Marvel is great, hope it works out #captainamerica")
The role is reportedly Crossbones, a nemesis of Captain America, and it just so happens a new Captain America film is about to go into production: Captain America: The Winter Soldier, directed by Joe and Anthony Russo. Read more evidence and more about the character below.
IGN UK (via Bleeding Cool) were the first to post and put together this puzzle, which is being confirmed by radio host Matthew Aaron.
Crossbones is a relatively common villain in the comics, but has no superpowers. He's just the ultimate solider/fighter/marksman etc. and his origins are tied to a brutal upbringing in New York City and then enlisting with the Red Skull. Of course, that character is dead but if he was working besides him, you can begin to see how he might fit into a story with Bucky becoming The Winter Soldier. Maybe he plays into flashbacks training the character or he's still around promoting Hydra ideals.
Grillo would be a great addition to the Marvel Universe as he's one of those actors we all recognize, but has yet to reach super stardom (despite various attempts to the contrary by his friend Joe Carnahan).  However, the fact that he tweeted about meeting with the notoriously secret company does feel a little fishy. Either it's the mark of complete confidence or a way to get some buzz behind him. Either way, I hope he gets the deal. It's worth noting that he's retweeted some news stories about the deal on his page and is interacting about it before any official news has been released.
What do you think about both Grillo in the Marvel Cinematic Universe and the inclusion of Crossbones in Captain America: The Winter Soldier?
Update: a Variety reporter confirmed that Grillo will be Crossbones:
Frank Grillo confirmed as Crossbones in Marvel's CAPTAIN AMERICA: THE WINTER SOLDIER.

— Marc Graser (@marcgraser) October 29, 2012


Variety's article doesn't add much, though by calling the character "key villain in Captain America's rogues gallery," the trade suggests the character will have an important role in the film.