/Film Exclusive: First Look At Ken Taylor's Interior Artwork For 'Tarantino XX' Blu-Ray Box Set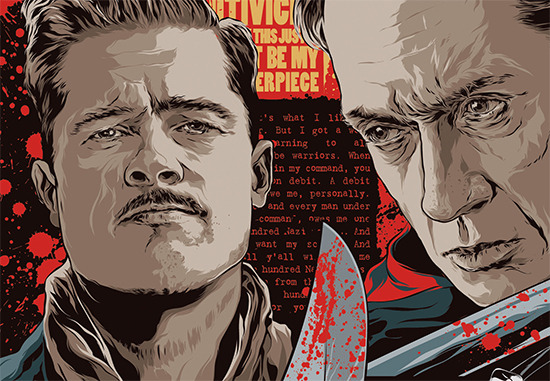 Just under a month from now, a big Blu-ray box set will hit shelves commemorating the first twenty years of work from writer/director and occasional actor Quentin Tarantino. The set includes Tarantino's debut, Reservoir Dogs, as well as Pulp Fiction, Jackie Brown, True Romance (scripted by Tarantino, but directed by Tony Scott), the two Kill Bill films, Death Proof, Inglourious Basterds, and new supplemental material.
When putting together the set, LionsGate enlisted Mondo and artist Ken Taylor to create a new cover an interior artwork. You've probably seen the cover, but now we're going to show you the first part of the interior art, which highlights Aldo Raine (Brad Pitt) from Inglorious Basterds.
That's a hint of the panel, above, and you can see the full image below. Over the rest of the week LionsGate will be publishing the rest of the interior panels across a few different sites until the full reveal on Friday.
Click the image below for high-res: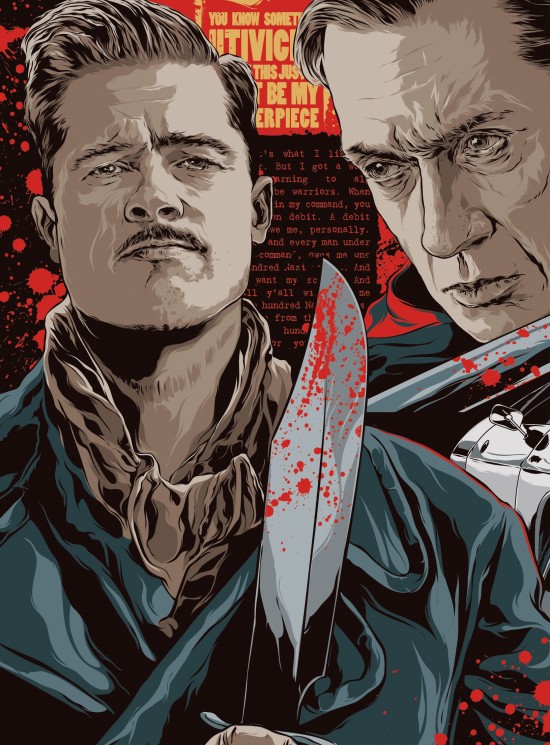 Here's more info on the art:
In celebration of Tarantino's twenty-years of filmmaking, the Tarantino XX: 8 Film Collection releases on Blu-ray November 20th.
Follow along this week as the amazing interior artwork of the box set is revealed one panel at a time! Created by artist Ken Taylor of Mondo, the box set interior includes an extensive illustrated mural of characters from all 8 films including Pulp Fiction, Jackie Brown, Inglourious Basterds and more!
Here's the schedule for the further reveals:
Wednesday: MSN Movies and IGN.comThursday: Yahoo! MoviesFriday: Wide reveal of completed artwork