Official New Photos From 'Iron Man 3' Reveal The Mandarin, Destruction And Romance; Plus The Teaser Poster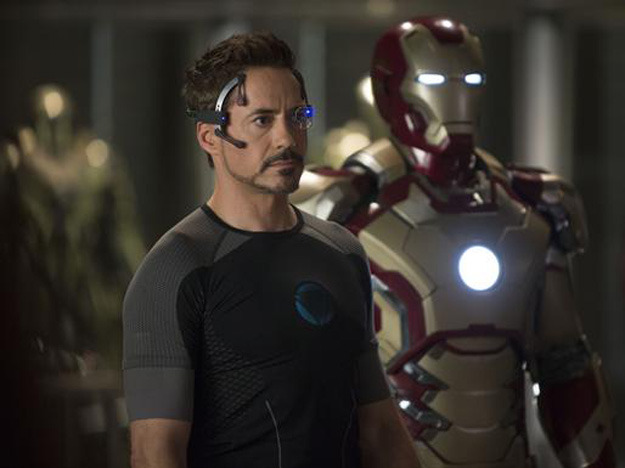 Update: We've added an image of The Mandarin as well as the teaser poster. 
Things are about to get all Iron Man 3 up in here. After Sunday's reveal of the teaser for the teaser trailer, several sites have now posted six new official photos from the first film of Marvel's Phase Two, directed by Shane Black and starring Robert Downey Jr., Don Cheadle, Ben Kingsley, and Gwyneth Paltrow. In them we get our first official look at the Iron Patriot armor, a tease that the Pepper Potts relationship is much more significant in this film, massive destruction and the Mark XLVII armor.
Check those out, and some more plot details courtesy of Marvel Studios President Kevin Feige, after the jump.
Thanks to Facebook and USA Today for these images. The last image, of Mandarin, comes from Entertainment Weekly.
In the USA Today article, Feige said the following about the story:
He basically loses all of his toys and is forced to just use his mind to rebuild and to face his biggest enemy. He's ultimately the engineering superhero. He's so charming and so flamboyant that sometimes you forget that's what he is: 'Hey, kids, learn this stuff and you can maybe build an Iron Man suit.'
Here's what Feige had to say about what's going on in several of the images above.
Pepper holding the helmet:
While he is a charming guy, it is often hard to root for a genius billionaire playboy philanthropist because they seem to have it all. In this movie, we are again going to see him stripped down more than we've ever seen him since he was in that cave, again with his back against the wall and with nothing but his wits to help him survive.
The embrace:
That's one of the things we love about (Tony). It is not a new girl in every film. Pepper Potts is an incredibly important part of his life and his evolution as a hero. She plays a very big part in this film.
Tony with the bluetooth thing:
I think he's given 120% on this one. Robert is in almost every scene, which, when you have Robert, is not a bad thing. The goal with Iron Man 3 is to again prove that all of our single heroes are as interesting alone as they are when they're all together in an Avengers movie.
The new armor:
Now we see he's invented a technology that allows him to basically have the suit arrive to him anywhere at any time, piece by piece. And it doesn't always work at first.
Iron Man 3 opens May 3. The new trailer is out tomorrow morning.
Here's the teaser poster: