Two New 'Paranormal Activity' Films Out In 2013: Part 5 And A Latino Spin-Off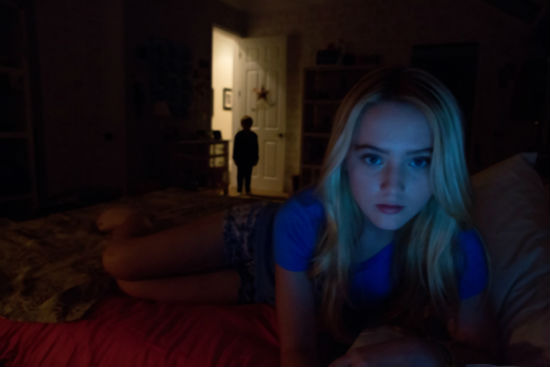 Fans who stayed through the credits of this weekend's hit film Paranormal Activity 4 were treated to a curious Spanish speaking coda teasing a brand new sequel. However that sequel will not be Paranormal Activity 5. That's now officially coming in October 2013, but Latino themed film teased will actually an additional spinoff scheduled for release in Spring 2013. As previously reported, it's being written and directed by Christopher Landon (Disturbia) and will draw from Catholic paranormal mythology. It's set in the same world, will be in English about the same ghost, but will not continue the story of Katie, Hunter and the stars of the first four films. Read more after the jump.
Deadline broke the news of the two new Paranormal films being released next year but Bloody Disgusting had the news of the Latino sequel earlier this year.Paranormal Activity 4 was the number one film at the box office this weekend, but had the softest opening yet for the franchise, likely due to lukewarm reviews and general franchise overkill. The fact is, though, these films cost under $10 million to produce and even with marketing costs, they're highly profitable. Maybe not as profitable as the first film, but profitable none the less. Spinning the series off will just lead to more of that.
"This will be an off-shoot aimed at the groups who have been the biggest supporters of the property – Latinos and folks in Latin America – Mexico, Brazil, and Argentina," a Paramount insider told Deadline. You can watch the post-credits sequel over on The Film Stage.
Now we're going to talk about spoilers from Paranormal Activity 4.
More so than any of the previous sequels, Paranormal Activity 4 demands a follow-up. For two years we've been wondering what happened when Katie kidnapped her nephew, Hunter, and when we finally thought we'd get our answer, we just got more questions. Somehow the abducted child got put into the adoption structure, Katie lost him, and now was trying to get him back with the help of a kid we've never seen before. And the film ends pretty much leaving us exactly where we were at the end of Paranormal Activity 3 – there's a female cult that worships this demon and they need a young boy. Hopefully the fifth film will actually stick with that story, even if it means they have to abandon the found footage angle.
And with the Latino spin-off, maybe we'll get a little more backstory to the demon. But frankly, if it doesn't add to the core mythology, I honestly don't care.
Did you like Paranormal Activity 4? Will you see two new films next year?