Nicolas Cage In Talks For More "Mainstream" 'Left Behind' Reboot [UPDATE: Vic Armstrong To Direct]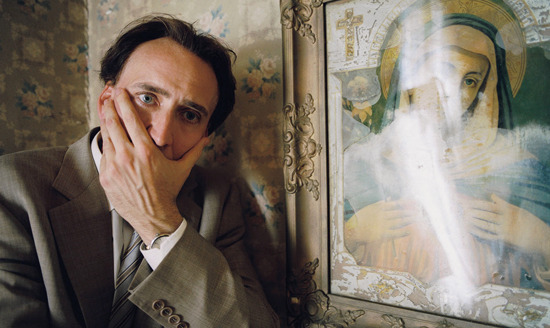 [UPDATE: THR reports that legendary stunt coordinator and second unit director Vic Armstrong is now in negotiations to direct. Armstrong's previous director credits include episodes of The Young Indiana Jones Chronicles and the Dolph Lundgren movie Army of One.]
That Biblical epic trend sweeping over Hollywood isn't stopping at the Old Testament, apparently. Planning has begun on a mainstream cinematic reboot of Left Behind, based on Tim LaHaye and Jerry Jenkins' bestselling novels about the end times.
And to replace Kirk Cameron, who starred in the previous movie adaptation of the books, they've entered talks with Nicolas Cage. Even by the standards of Cage's hyper-eclectic career, this is a rather unexpected career choice. More details after the jump.
LaHaye and Jenkins' tomes draw upon the Book of Revelation and other religious texts and interpretations to depict events following the Rapture, wherein the righteous are brought up to heaven to be with God. Left Behind will follow those remaining on earth as they grapple with the chaotic aftermath in the first few hours.
The earlier trilogy, with Cameron, was released in the first half of the aughts to mostly religious crowds. However, the hope is that the reboot will garner a wider audience — hence the hiring of Cage. The project is also seeking a mainstream director to take over at the helm.
The budget is in the $15 million range, which is significantly higher than the $4 million figure cited for the old Left Behind, but still pretty paltry for what is supposed to be a large-scale disaster epic. Production is aiming to start in early spring, with a wide release planned for late 2013.
Cage has been picking up new projects at what feels like breakneck speed this fall. In just the past two months, he's boarded the David Gordon Green drama Joe, the William Friedkin thriller I Am Wrath, and the Richard Kelly picture Amicus. Cage will next be seen in The Frozen Ground and Kick-Ass 2, which open next year.
[Source: THR]