Disney Puts David Fincher's '20,000 Leagues Under The Sea' On Temporary Hold; Director Wants Brad Pitt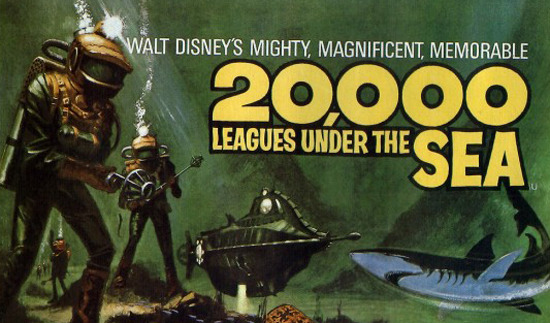 Disney can't decide whether or not it wants to make David Fincher's 20,000 Leagues Under the Sea. That's not so difficult a position to understand, really. While his fans hold him up as one of the current masters, Fincher's box office track record is spotty: Benjamin Button and The Girl With the Dragon Tattoo weren't exactly the hits their respective financiers hoped for. And Fincher has a reputation for making expensive films over which he has utter control.
Disney, having just written down the failure of John Carter, and with big hopes placed on Gore Verbinski's expensive The Lone Ranger, might not be willing to commit to a risky sea venture with Fincher. But what if Brad Pitt was on board?
Variety reports that Disney has put a "three-month hold" on Leagues while it waits for Steven Zaillian's script for the film. It has been in active development for about a year, but with Andrew Kevin Walker (Seven) preceding Zaillian in the writing chair, there isn't a film to green light yet... should Disney want to do so.
Locking a star for the film wouldn't hurt, thought, and so Fincher is reportedly courting Pitt to play "sailor and master harpooner" Ned Land. (Played by Kirk Douglas in the '54 film that this is vaguely remaking.) Variety says that Captain Nemo would be played by an "older A-list star," but there are no names yet.
There's also no commitment from Pitt at this point. And even if he could be convinced to sign on, that might not be enough for Disney, which has gone through a recent leadership change and is looking to switch up strategies a bit with respect to leaning almost exclusively on tentpoles.