Celebrity Cameo Rumors: Lady Gaga Courted For 'Zoolander 2', Stephen Colbert To Appear In 'The Hobbit' [UPDATED]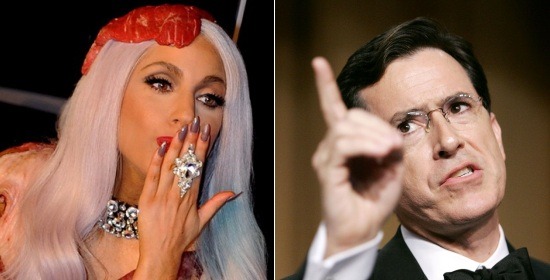 [UPDATE #1: Ben Stiller has now denied the Gaga rumors via Twitter:
Zoolander LadyGaga story is not true. Weird that OK magazine would print something untrue. Weird to read a made up story on the internet.

— Ben Stiller (@BenStiller) October 19, 2012
[UPDATE #2: THR confirms Colbert's appearance in either The Hobbit: The Desolation of Smaug or The Hobbit: There and Back Again.]
Starring in movies isn't just for movie stars anymore. The latest casting rumors surrounding Zoolander 2 and The Hobbit aren't about the usual silver screen fixtures, but about pop personalities Lady Gaga and Stephen Colbert, respectively. Neither is a total stranger to films, but Gaga's a musician first and foremost, and former Strangers With Candy actor Colbert is better known these days for his eponymous late night show. More after the jump.
For what it's worth, Wilson has said previously that he'd love to have the singer in the movie. "She has to be," he told MTV back in 2010. At that point, there was no scripted role for Gaga, but the actor speculated that "maybe she makes a good foil for Hansel."
Gaga was last seen in an uncredited blink-and-you'll-miss-it cameo in this summer's Men in Black 3, and just wrapped a role in Robert Rodriguez's Machete Kills. It's unclear just when Zoolander 2 will shoot. The script by Stiller and Justin Theroux has been completed for some time, but Paramount's still getting the other pieces into place.
As for Colbert, the rumor traces back to the comedian himself. In an interview with Playboy, Colbert discussed his visit to the set of The Hobbit. "I flew out and watched them shoot some scenes and went to some locations," he enthused. "I saw a 25-minute cut, and it was amazing. [Peter] Jackson knows I'm a big fan of the films." When the magazine followed up with a question about whether he would actually be in the film, however, Colbert turned coy. "Could be" was his only response, and he smiled and kept his mouth shut when pressed for more information.
This rumor I'm inclined to believe. Colbert apparently arrived in New Zealand at the invitation of Jackson himself, and it wouldn't be at all difficult for the director to stick Colbert in the background for a scene or two. Between Colbert's possible appearance and Eric Vespe's, we're going to have to keep an eye out on those extras. The first of the three-part adaptation, The Hobbit: An Unexpected Journey, hits December 14.