'Killing Them Softly' International Trailer Features New Flashes Of Violence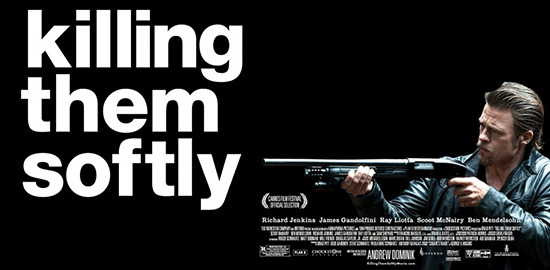 I quit watching this French trailer for Andrew Dominik's Killing Them Softly about half way through, after I saw a couple shots in a row that I realized I would have preferred to see first in the full feature.
Take that as an endorsement, of sorts. This might show you more than you want to see, but at the same time it is a good new trailer for Dominik's film, with a respectable amount of new footage. If you just want to see more than you have of the film that features Brad Pitt as a mob enforcer hunting down two guys (Scoot McNairy and Ben Mendelsohn) who robbed a card game, then it'll do the trick.
After Argo, I think audiences will be ready to see a lot more of McNairy, who provides one of the key performances in Affleck's movie. That is, if they even realize who the guy is under his hair and makeup in Argo. What I've seen of McNairy in Killing Them Softly looks great, too — one more reason to see the film that also features Ray Liotta, Richard Jenkins, and James Gandolfini.
Killing Them Softly opens on November 30.