New 'Jack Reacher' Trailer Offers A Look At Werner Herzog As The Villain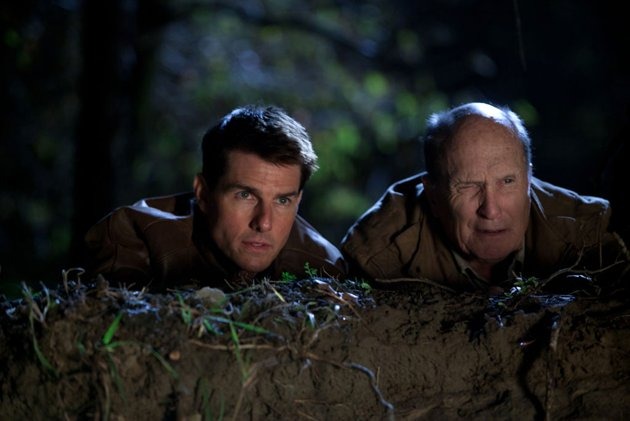 Most people have been focused on the big thing that changed as the character Jack Reacher moved from the page to the screen: Jack Reacher is no longer big thing, as he's played by Tom Cruise. The character is written as a hulk of a man, an ex-MP who wanders America and has violent adventures which he survives thanks to a well-honed and tactical approach to confrontation.
The film Jack Reacher, based on the book One Shot, in which Reacher investigates a series of sniper killings in a mid-size city, also features a lot of the small changes that are inevitable in a novel-to-film transition. There's a move to a more overt sort of action, and a few plot changes, which are hinted at in the new trailer below. There's even a weird but neat "Spider-Man in New York" sort of moment, where a crowd helps Reacher evade the police.
The movie is from writer/director Christopher McQuarrie (The Usual Suspects) and co-stars Rosamund Pike and Robert Duvall. Oh, and director Werner Herzog plays the bad guy. Until the new trailer we haven't seen anything of Herzog as he looks in the film, so this is your first chance to see what he's done with the part. 
And The Playlist points out a good Playboy quote from Reacher's original author, Lee Child, on casting Cruise:
When you transfer a book to the screen, something's going to give. It seems to me there are three essential things about Reacher. First, he's smart. Second, he's still and quiet yet menacing. Third, he's huge. It was always likely we were going to lose one of those characteristics. The question was which. For a long time we were fixated on his physique. We had to have a big guy. But we got nowhere. There were no actors big enough who could do even one of the other things. Then it came as an epiphany. Give up the physique and concentrate on Reacher's smartness and quietness.
Yahoo has the trailer. Jack Reacher opens on December 21.
When a gunman takes five lives with six shots, all evidence points to the suspect in custody. On interrogation, the suspect offers up a single note: "Get Jack Reacher!" So begins an extraordinary chase for the truth, pitting Jack Reacher against an unexpected enemy, with a skill for violence and a secret to keep.