TV Bits: 'American Horror Story,' '30 Rock,' 'Girls,' Dane Cook, 'Californication,' 'Grey's Anatomy'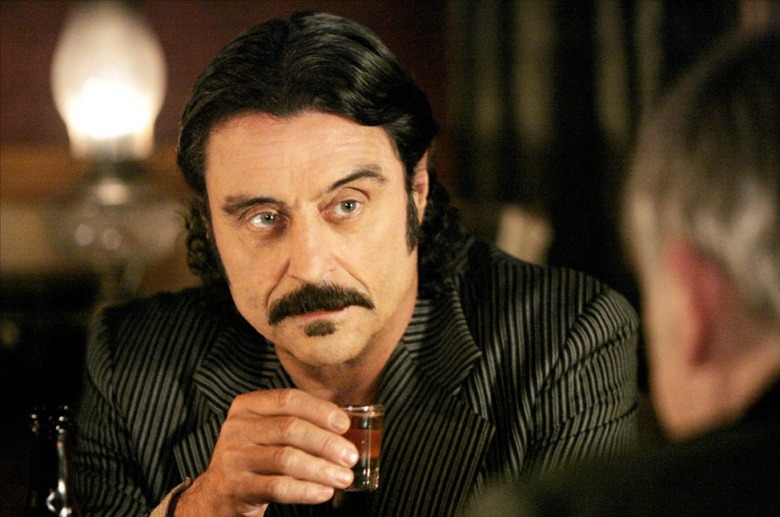 Sneak peaks, new additions, premieres and premature cancellations are all in this edition of TV Bits. After the jump read about the following:
Check out a teaser trailer for the sixth season of Californication.
Deadwood and Pirates of the Caribbean star Ian McShane is joining American Horror Story: Asylum.
Scream-queen Neve Campbell is joining Grey's Anatomy for a few episodes.
Eric Dane will star in a new, Platinum Dunes produced pilot called The Last Ship.
Watch a clip of Olympian Ryan Lochte's cameo on 30 Rock.
The HBO shows Girls and Enlightened will both return January 13.
The sixth season of the hit Showtime show Californication premieres January 13 but even with three months to go, they've already released a promo for it, via Cinemablend.
American Horror Story: Asylum is finally premiering this week and creator Ryan Murphy took to Twitter to announce a late addition to the cast. Ian McShane, best known for playing Blackbeard in Pirates of the Caribbean: On Stranger Tides and Al Swearingen in the HBO series Deadwood, has joined the cast to "tussle" with Jessica Lange's character. Thanks to TV Line for the heads up.
Does anyone still watch Grey's Anatomy? Apparently they do, because a big star is set to use the show as a return to TV. Neve Campbell, who was on Party of Five and in the Scream films, will appear on the current season of the ABC show as one of the sisters to Patrick Dempsey's character. Read more about the casting at TV Line.
Speaking of Grey's Anatomy, one of the show's former stars, Eric Dane, is joining a new TNT pilot called The Last Ship, produced by Platinum Dunes. Read more at the Hollywood Reporter and here's the show description:
In this exciting action/adventure project based on the popular novel by William Brinkley, the crew of a naval destroyer is forced to confront the reality of a new existence when a pandemic decimates most of the earth's population.
Vulture posted this clip of Olympic Gold Medalist, Ryan Lochte, who cameos on an upcoming episode of the NBC sitcom 30 Rock.
Lena Dunham tweeted, and Deadline then confirmed, that the second season of the her HBO show Girls will premiere on January 13. It'll air alongside the second season of the Laura Dern/Mike White show Enlightened.
Finally, much was made of the NBC pilot Next Caller, which starred Dane Cook as a radio shock jock but worry no more. The show will not make it to the air according to Deadline.