Never Before Seen Making Of 'The Empire Strikes Back' Documentary Found; Watch It Here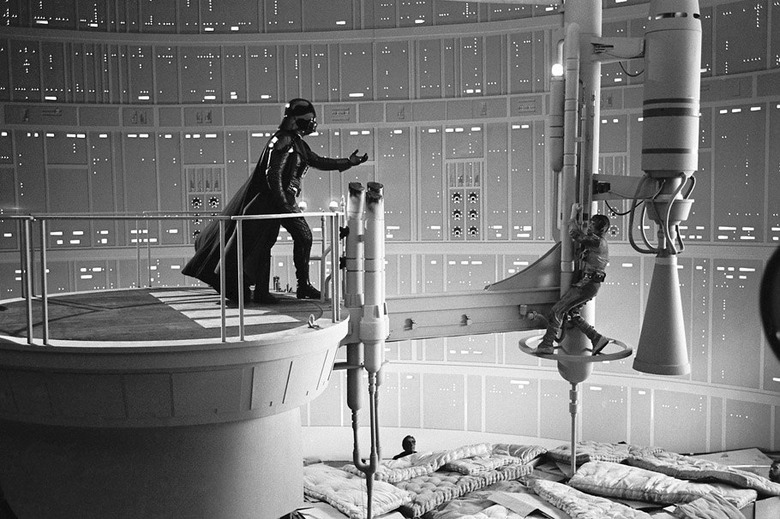 Even the most devout Star Wars fan might not know that filmmaker and journalist Michel Parbot was once given unprecedented access to the set, stars and filmmakers behind The Empire Strikes Back. The resulting work, The Making of The Empire Strikes Back, has apparently never been commercially released. And while Parbot did work on a documentary about the film called SPFX: The Empire Strikes Back, this is not that doc.
One site has unearthed 15 minutes from this piece of Star Wars history via an old Dutch TV documentary, which features never before seen interviews with the cast and crew. It's crude, it's subtitled, but it is also a rare and fascinating behind the scenes look at one of the best and most liked films of all time. What's better than that?
posted the below videos, which don't start in English, but switch languages about 45 seconds in. The quality here is crap but the access is almost mindblowingly awesome. How does this only have like 1000 views on YouTube after four years?
Part 1
Part 2
Unfortunately, this isn't the full documentary and there's no real explaination why. The Open Culture article does point
a must-visit link on Mint In Box
which describes a bit about the documentary's creation and links to four other pages which detail what's actually in the film. Here's an excerpt from the introduction:
September 22nd, 1980 on FOX Television: the Americans were able to discover a documentary named "SPFX: The Empire Strikes Back," with a voice-over and it was dedicated to the special effects of the Empire Strikes Back, though it didn't contain that many interviews. On IMDb, it is referenced here and Michel Parbot is credited as the cameraman in the part Camera and Electrical Department. This documentary can be watched today, as it is part of the Saga's Extras on the Blu-Ray discs....Contrary to the "SPFX" documentary, [the "Making Of"] is especially focusing on interviews (actors, technicians, director and producer). Even George Lucas appears time to time and very briefly. The "Making of" documentary is in four parts: Introduction, Norway, Characters, Special Effects.
Head to that site to read more about the creation and break down of the full film, only part of which is seen above.
Had you ever seen this? Do you love it?