'Alter Egos' Trailer: Kevin Smith-Distributed Indie Explores A Superhero Identity Crisis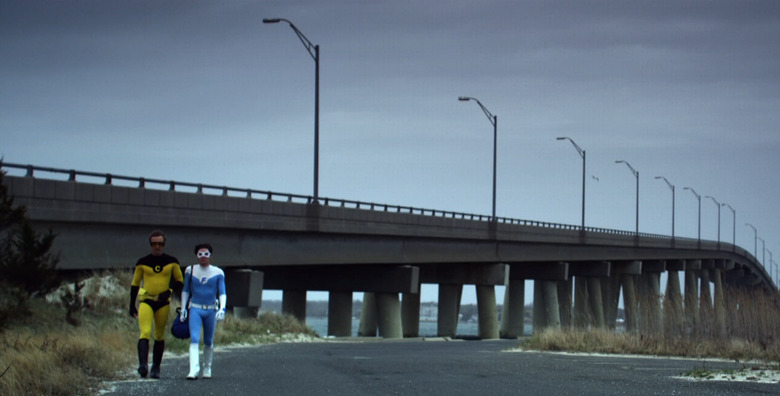 Considering Kevin Smith's enduring love of comic books, it's a little surprising to realize he's never actually directed a superhero feature. But he's about to make a contribution to the subgenre in another way. Smith's Smodcast Pictures is set to distribute Alter Egos, a low-budget indie about the rift between a man and his own superheroic identity.
Kris Lemche leads the mostly unknown cast as Brendan, who's upset to learn that his girlfriend Emily (Christine Evangelista) is cheating on him with his own ice-shooting alter ego Fridge. His breakdown couldn't come at a worse time, as public opinion and government support have just turned against superheroes. Watch the trailer after the jump.
Alter Egos isn't the first movie or comic book storyline to explore the disturbed side of the superhero psyche, but it looks like a potentially interesting take on the topic nonetheless. The trailer suggests that Emily's well aware of Brendan / Fridge's dual nature — and that he knows that she knows — so that the real problem isn't her so-called infidelity, but his own struggles with self-worth.
Smith's own directorial career has been a bit uneven as of late, but he's still got a devoted fanbase and a not-inconsiderable level of industry clout. It's great to see that he's using those powers to help out scrappy newcomers like Alter Egos' Jordan Galland, who last directed the vampire satire Rosencrantz & Guildenstern are Undead.
Alter Egos gets a limited theatrical run starting this Friday, October 19, followed by a VOD release on November 20.
Synopsis:
Alter Egos takes place in a world in which superheroes have recently lost all government funding and public support. It centers on an underappreciated superhero who jeopardizes a dangerous mission with his own emotional crisis — his girlfriend is cheating on him with his alter ego.