Jim Carrey Joins Heist Action-Comedy 'Loomis Fargo', From 'Napoleon Dynamite' Director Jared Hess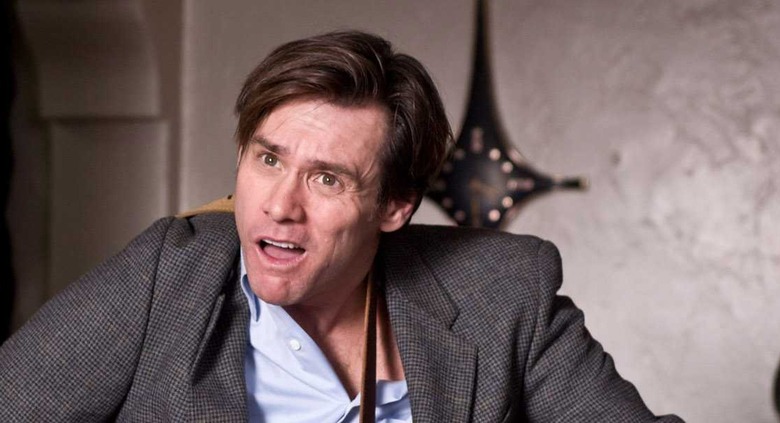 Jim Carrey will be stealing more than just scenes in his next project. The actor has just entered talks for Loomis Fargo, based on the true story of a $17 million armored car heist that took place in Charlotte, N.C. But don't let the Fast and the Furious-worthy premise mislead you — the situation's being played for laughs, with some interesting comedy talent on board. Napoleon Dynamite helmer Jared Hess is directing, from a script that originated with Up All Night creator Emily Spivey. Read more after the jump.
The latest draft of the script was penned by Chris Bowman and Hubbel Palmer, who've previously worked with Hess on the short-lived Napoleon Dynamite animated series. Earlier drafts were written by Spivey, Danny McBride, and Jody Hill. Lorne Michaels and John Goldwyn are set to produce.
Hess made a big splash with his first feature, 2004's oddball Napoleon Dynamite, but hasn't quite been able to recapture that box office magic with his follow-ups Nacho Libre and Gentlemen Broncos. He's currently developing the family comedy The Pet, for Disney and producer Scott Rudin.
Carrey's coming off of two family films, A Christmas Carol and Mr. Popper's Penguins, but has some enticing grown-up fare coming down the pipeline. He's now shooting a supporting role in Kick-Ass 2: Balls to the Wall, and will next be seen in The Incredible Burt Wonderstone, opposite Steve Carell. Loomis Fargo is tentatively scheduled to shoot next April in North Carolina.