Harmony Korine's 'Spring Breakers' Pushes James Franco For Oscar With Qualifying December Release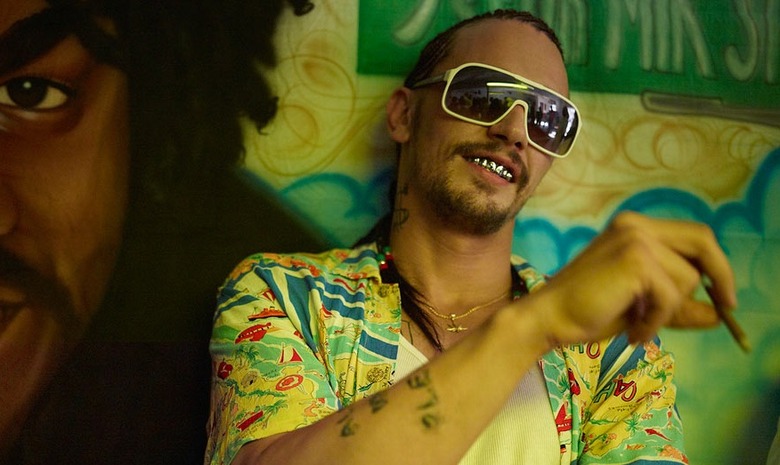 Harmony Korine's edgy oeuvre isn't exactly typical awards bait, but his upcoming Spring Breakers is apparently gunning for at least one of those little gold men. The drama is getting an Oscar-qualifying year-end release to give star James Franco, who plays drug kingpin Alien, a shot at the Best Supporting Actor award.
Franco isn't totally unknown to the Academy, having previously been nominated for his lead turn in 127 Hours. But he'll be up against some stiff competition, many of whom did fine work in films more likely to be appreciated by the older Academy crowd. More after the jump.
The catch is that the Academy can only nominate Franco if they actually watch his performance — and Spring Breakers, despite critical consensus that it's Korine's most conventional work to date, isn't the kind of film that usually gets Oscar attention. The plot centers around four college buddies who rob a restaurant to get quick cash for a Florida vacation. Alien enters the picture when he bails the girls out of jail after they've been arrested for their antics. He convinces them to join his crew, and the party only gets more debauched from there.
In contrast, Franco will be up against the likes of Tommy Lee Jones in Steven Spielberg's Lincoln, Philip Seymour Hoffman in Paul Thomas Anderson's The Master, Leonardo DiCaprio in Quentin Tarantino's Django Unchained, and Robert De Niro in David O. Russell's The Silver Linings Playbook, just to name a few.
I haven't seen Franco's performance myself, so I can't say whether he's more or less worthy than any of these other actors, but it's not tough to see that the others would be more in line with Oscar's usual picks. Still, maybe a surprise pick like this one is just what they need to shake up next year's Seth MacFarlane-hosted ceremony. Spring Breakers hasn't announced an exact release date as of yet, but look for it to hit New York and Los Angeles sometime in December.