'Wreck It Ralph' Viral Marketing: Retro 1997 'Sugar Rush Speedway' Commercial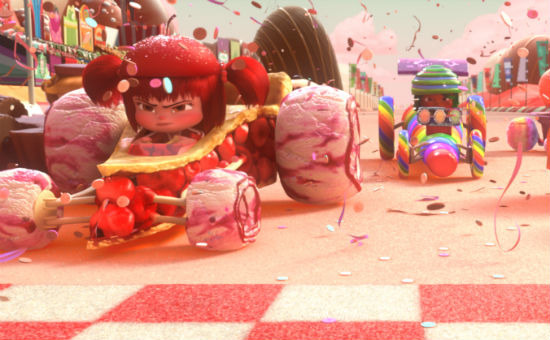 One of the many truths you may not know about Disney's upcoming film Wreck-It Ralph is that about half the movie, maybe more, takes place in the video game Sugar Rush. Inspired by Mario Kart, with a whole lot of Candyland thrown in, it's the world where Ralph (John C. Reilly) befriends a glitch named Vanellope von Schweetz (Sarah Silverman) and develops a friendship that changes the arcade forever.
Some were worried knowing so much of the film takes place in this game but it's, by far, the most interesting world created by director Rich Moore and his team. Both Fix It Felix Jr. and Hero's Duty are incredibly cool, but the level of visual detail and brilliant use of the candy theme make Sugar Rush a world you really don't want to leave. Want proof? Disney has released a commerical for the game that gives you a hint at just a few of the cool twists and turns you can expect. Check it out below.
Here's the Sugar Rush commerical from Wreck-It Ralph. And don't forget they also did a Fix It Felix Jr. commercial, so expect Hero's Duty soon too.
We'll have more on Wreck-It Ralph soon as we get closer to its release November 2 but, spoiler alert, it's really good. If you'd like to know more, including info on the design of Sugar Rush and a mystery fourth game that almost made it into Wreck-It Ralph, read both my feature article on the film and interview with the director. Then check back in a few weeks for a full review.