VOTD: Paul Thomas Anderson Interviewed About 'The Master,' Discusses Scientology, Harvey Weinstein And Polarized Reception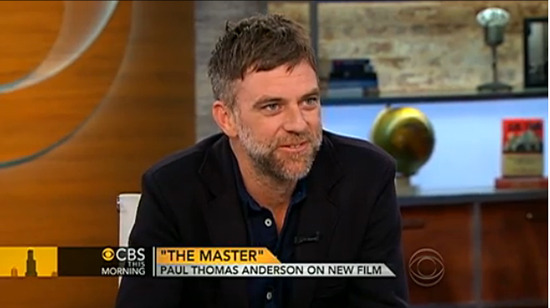 It's a good time for anyone who has wanted to see the shroud of mystery lifted from some film directors. The Wachowskis, once pegged as incredibly reclusive, are doing interviews left and right. And Paul Thomas Anderson, not quite such an enigma, but not known for being outgoing in the media, has recently done multiple TV interviews to promote The Master.
Last night Anderson was on The Daily Show, and today he hit CBS This Morning to discuss his new film. The Daily Show interview is a lot of fun, because it's easy to see that Jon Stewart is excited to have Anderson as a guest. Over at CBS, however, the writer/director discussed the inspiration of Scientology on The Master, which might be a subject many are eager to hear PTA discuss. He also gets into the film's reception and some other issues that are a bit deeper than what Stewart gets to. Both interviews are recommended, and can be found below.