'Just Go With It', '21 Jump Street', 'Bridesmaids' Rank Among Redbox's Ten Most Rented Titles Ever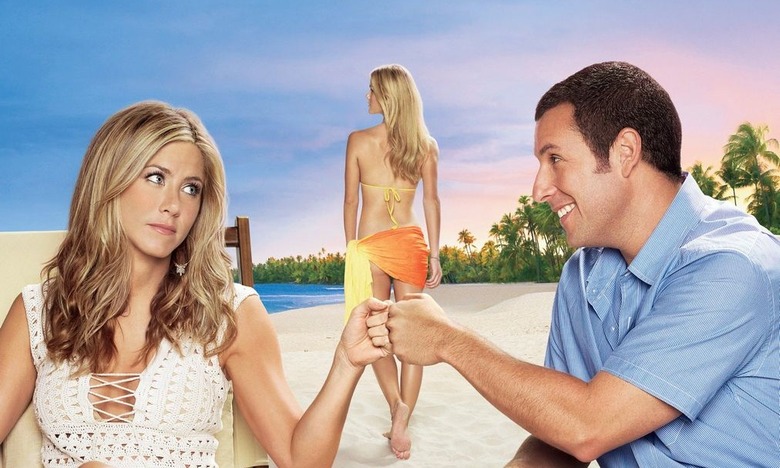 Sure, moviegoers may love standing in the midnight showing line for The Avengers or arguing over The Dark Knight Rises plot holes at the bar, but what do they turn on when they finally go back to the privacy of their own homes? Rental retailer Redbox knows, and in honor of their ten-year anniversary, they're sharing a list of their top ten most-rented movies since 2002. Here's a hint: Adam Sandler is really, really popular. Hit the jump to see the list.
10. Rango
9. The Proposal
8. Zookeeper
7. Bridesmaids
6. Salt
5. Jack and Jill
4. 21 Jump Street
3. Grown Ups
2. Bad Teacher
1. Just Go With It
The titles represent a very narrow range of release dates — 2009's The Proposal is the oldest movie on that list by several months — but that makes sense. Redbox may be a decade old, but since the company's gotten much bigger over the years, no early '00s titles stand much of a chance. On the flip side, releases that have been around a little longer have had more time to rack up the numbers. In that light, it's especially impressive that 21 Jump Street, which hit DVD and Blu-ray just a few months ago, ranks so highly.
More notable is the type of films being rented. Of the top ten, nine are comedies, with Salt as the sole exception. And of those comedies, four are Happy Madison productions. Space explorers, superheroes, and boy wizards may rule at the box office, but schlubby everyman Sandler is apparently king of the home video market.
And if you've ever wondered aloud whether movie critics even matter anymore, this list suggests they don't when it comes to people's movie rental choices. As Screen Crush points out, these ten films have an average Rotten Tomatoes score of 27%. Or perhaps people just have a blind spot when it comes to Sandler: The four Happy Madison films average a dismal 11.5%, while the other six average a perfectly respectable 69%.