'Zero Dark Thirty' Trailer: "He Is One Of The Disappeared Ones"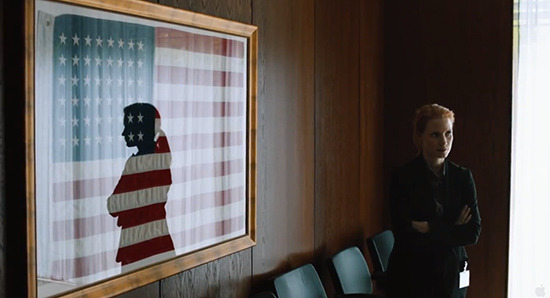 The ad campaign for Kathryn Bigelow's Zero Dark Thirty, which chronicles the mission that led to the killing of Osama Bin Laden by a Navy SEAL team, has been pretty low-key so far. But then, the studio hasn't had to do much, as there has been a fair amount of publicity for the movie thanks to accusations that the original October release date was meant to remind audiences of President Obama's role in the mission, just before the Presidential election takes place. There have been far more serious (but unproven) allegations that the film is based on access to classified data that was given illegally to the production.
Now it's time to move beyond those talking points to look at the actual film. Derspite featuring Joel Edgerton, Jessica Chastain, Chris Pratt, Kyle Chandler, Mark Strong, and Jason Clarke, the teaser trailer showed few faces, and relied upon audio montage to set up the story of the hunt for Bin Laden. A few images later gave us a bit more. Now you can see a lot more of Bigelow's follow-up to The Hurt Locker, in the full trailer below.
There's some good stuff in there: Jason Clarke's intro, the shot of James Gandolfini, and Kyle Chandler looking like he plays a companion role to his presence in Argo. I wonder about putting Chastain's character front and center, and how she'll work as the backbone to the entire story. This looks like the same sort of reality/fiction blend that worked very well in The Hurt Locker, and with that in mind, how much will the degree to which this might inevitably deviate from reality matter in the long run?
Apple has the trailer. Zero Dark Thirty's opens on December 19.
For a decade, an elite team of intelligence and military operatives, working in secret across the globe, devoted themselves to a single goal: to find and eliminate Osama bin Laden. Zero Dark Thirty reunites the Oscar(R) winning team of director-producer Kathryn Bigelow and writer-producer Mark Boal (The Hurt Locker) for the story of history's greatest manhunt for the world's most dangerous man.