Watch A Long 'Lincoln' Q&A With Steven Spielberg And Daniel Day-Lewis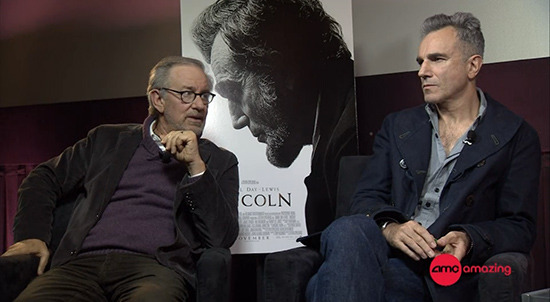 You've seen the trailer and the debate TV spot, and you've had a chance to read early reviews based on the "work in progress" print shown at the New York Film Festival. (Which, in all likelihood was very close to a final cut, save for a few nips and tucks.) Now you can watch director Steven Spielberg and star Daniel Day Lewis field questions about the film, thanks to the miracle of technology.
Lincoln looks at the last few months 16th President's life, and as Angie described, follows "Lincoln's attempt to push the Thirteenth Amendment, which abolishes slavery, through the House of Representatives. Meanwhile, at home, Lincoln's marriage to Mary Todd (Sally Field) is strained by the death of their son Willie three years prior, and their eldest son Robert Todd (Joseph Gordon-Levitt) is furious at his parents' refusal to let him go to war."
The Q&A touches on the reasons for focusing on some of those elements, and on the process employed to bring this version of Abraham Lincoln to the screen.
Lincoln opens on November 16. Yahoo has the Q&A.
Steven Spielberg directs two-time Academy Award® winner Daniel Day-Lewis in "Lincoln," a revealing drama that focuses on the 16th President's tumultuous final months in office. In a nation divided by war and the strong winds of change, Lincoln pursues a course of action designed to end the war, unite the country and abolish slavery. With the moral courage and fierce determination to succeed, his choices during this critical moment will change the fate of generations to come.