Could Universal Bump 'Snow White And The Huntsman' Director Rupert Sanders Over To 'Van Helsing'?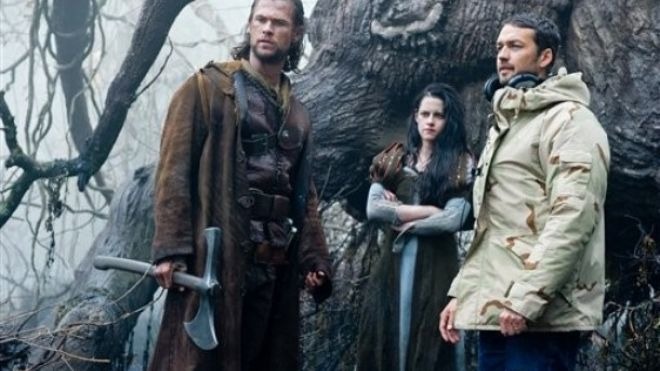 We'll very likely see another film featuring Chris Hemsworth's Huntsman character from Snow White and the Huntsman, but the precise details of that SWATH sequel seem up in the air. A small part of the uncertainty around that project is due to the public and embarrassing affair between Snow White director Rupert Sanders and his star Kristen Stewart. It's a thing I hate even mentioning, because it should have nothing to do with anything other than their lives, but in this case it seems to be having some ripples in the film business as well.
So there's another big project that Universal wants to get moving: the new version of Van Helsing that has Tom Cruise attached to star and Roberto Orci and Alex Kurtzman (Cowboys & Aliens, The Amazing Spider-Man 2) scripting. And it's starting to look like we might see Sanders stepping in to direct that film, with the potential Snow White and the Huntsman sequel going to another director.
Twitch reports that the work Sanders turned in on SWATH makes him a good talent for Universal, and that the studio wants to keep him in-house despite the little Huntsman cast dust-up. And so we come to Van Helsing, for which Sanders and Universal have reportedly had "early and still relatively casual" talks.
Cruise is back in full-on mode, thanks in part to last year's Mission: Impossible – Ghost Protocol. He was seen in the dud Rock of Ages this year, and will soon be on screens in Jack Reacher, and is also starring in Joseph Kosinski's new film Oblivion (in post-production now) and is in front of cameras for the video game-inspired sci-fi riff on Groundhog Day, All You Need is Kill, directed by Doug Liman.
All of which means is that this is a good time to get Cruise's next film set, and the long-gestating Van Helsing could be it. (Universal is also behind Oblivion, which it picked up after Disney passed.) This sounds like it's a notion that is in the early stages, but if Cruise likes Sanders for the Van Helsing director, it'll firm up really fast.