Uma Thurman Is The Latest To Join Lars Von Trier's 'Nymphomaniac'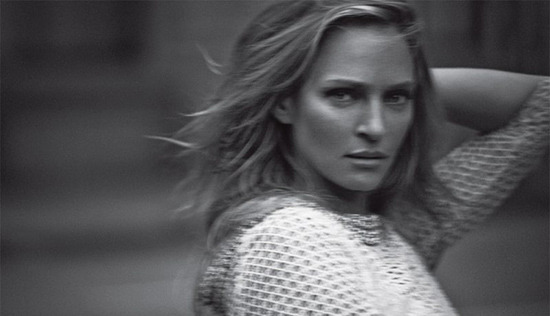 Briefly: With seemingly everyone and their mother (particularly the mothers) fascinated by the "supermarket smut" of Fifty Shades of Grey, it's as good a time as we've seen in years for attention-getting erotic fiction. Which is what Lars von Trier's new film(s) Nymphomaniac seems to be, at least on the surface. The two-part story will be released as four films in various markets, with some markets getting the softcore version of the "wild and poetic story of a woman's erotic journey from birth to the age of 50," while other markets get the hardcore version.Charlotte Gainsbourg plays the woman, Joe, who is found beaten in an alley by an older man (Stellan Skarsgard) who nurses her back to health and hears her story. Shia LaBeouf, Jamie Bell, Connie Nielsen, Christian Slater , and Stacy Martin all feature in the film, and now Uma Thurman has signed on.
Thurman is no stranger to intense, button-pushing material, as she has done the violent side with Quentin Tarantino and the sexual side in the first-ever NC-17 film, Henry & June. But just what she'll do in this movie is unclear.
In fact, just what anyone will do is unclear, as Trier is as unpredictable as he is provocative. And, in fact, whether this will be the sort of "erotic fiction" people generally think of when they read that term is something we've got reason to doubt. [THR]