/Film Exclusive: 'Flare' Trailer, An Interactive Sci-Fi Short Series Set In A World Of Darkness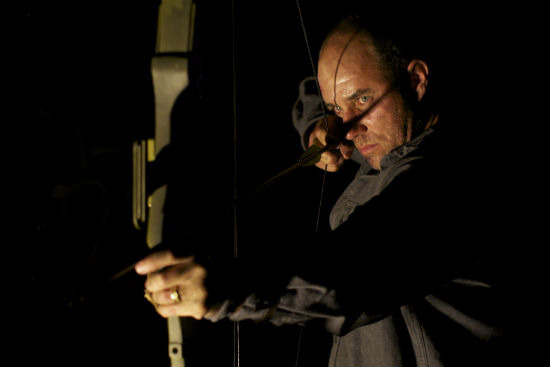 With a concept that blends the video game Journey and current NBC hit show Revolution, the Emmy Award winning Fourth Wall Studios today launches the first episode of Flare. It's an interactive online series set in a post apocalyptic world where the sun is no more. Survivors are scarce, but every morning at 7:44 a.m. a mysterious light shoots into the sky, only to disappear soon after.
That's the hook for the show and the first episode, The Hunt, follows two of the survivors at odds in the unforgiving world with that one beacon of hope. Burke, played by Jamie McShane (Thor, Sons of Anarchy) has lost everything and runs into the family of Dale, played by Mark Moses (Mad Men, Platoon). The result is a dark game of cat and mouse with everything on the line.
And that's just the first episode. Fans will soon be able to contribute stories set in this universe that could, ultimately, effect what happens on the show itself. After the jump, check out the exclusive debut trailer for Flare and link to the first episode, which is now online.
Here's the exclusive first look at the trailer for Flare: The Hunt. Watch the full episode at http://rides.tv/flare/
From the press release:
"FLARE" was created by Jim Stewartson, CEO of Fourth Wall Studios.  "Having developed this world for nearly three years, it's so exciting to finally be able to share a part of it with our audience." said Stewartson.  "It was such a privilege to be able to work with our director Dan Brown and this incredible cast.  And as we release more content, we will have created something like an open-sourced story world. I hope that audiences everywhere find this glimpse of the world of "FLARE" intriguing enough to want to create their own stories set in this universe."
So The Hunt is the kick off to a huge, open world, that'll exist online, with fans adding content in various ways that'll appear in the show. Here's more from Stewartson:
FLARE was conceived specifically for the RIDES platform. The premise of total darkness and isolation gives a claustrophobic, personal environment for our characters, but leaves the full landscape of the world open to being explored in different ways. For example, in THE HUNT, we use your phone to listen in on the amateur radio conversations of others out there struggling to survive. We also use our ability to provide multiple layers of story simultaneously to give us much deeper insight into our characters internal thoughts and struggles. Finally, we receive messages from the past that broaden our understanding of how drastically people's lives have changed since the world went dark.
The company's first show, Dirty Work, just won a Primetime Emmy Award for Outstanding Creative Achievement in Interactive Media: Original Interactive Television Programming which Stewartson called "a tremendous validation" of the platform. "It's great to see that Hollywood is recognizing that interactive, multiscreen storytelling is not just about enhancing traditional media, but has huge potential for original content as well," he said.
When it comes to original online programming, Fourth Wall seems to be at the forefront and Flare is another slick addition.