'Room 237' Trailer: Stanley Kubrick's 'The Shining' Has Its Secrets Revealed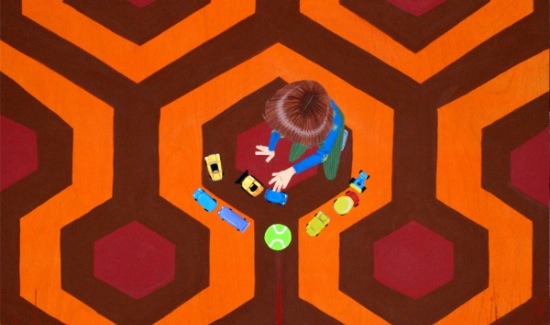 "Phenomenal...An Absolute Must-See." That's a quote taken from my review of the amazing documentary Room 237 and used in its first trailer. Truer words can't be spoken. Directed by Rodney Ascher, the film dissects Stanley Kubrick's masterpiece The Shining to its core, featuring several insane – and not so insane – readings of the 1980 horror film starring Jack Nicholson. Whether or not you agree with these people or not, you'll never watch The Shining the same away again.
Room 237 premiered at Sundance and has since been playing on the festival circuit leading up to an IFC release next year. Check out its first minimalist, trailer below.
Thanks to Metrodome Film for the trailer. It doesn't show much/anything, but will certainly get you excited for the film.
Rather than describe this film again, I'll just excerpt my review:
Room 237 is broken into nine sections, each of which do their best to convince you thatThe Shining has some kind of alternative, hidden subtext. The most controversial and well-known theory is the Moon landing justification. The explanations for it range from laughable to interesting. Other ideas include The Shining being an anti-holocaust piece.
Several of the other chapters dissect the production design and mise en scene of the film in excruciating detail. For example, one woman has made detailed maps of the Overlook and decided it couldn't be a real structure. Another believes Kubrick was so obsessed with subliminal advertising at the time, he flooded the movie with sexual images. And yet another believes Kubrick composed the film to be a mirror unto itself and, to illustrate, we watch several scenes from The Shining overlapped from two different sources: One running the film forward, the other running it backward. The results are jaw-dropping.
Through all of this, the film's main message shines through. Whether or not Kubrick meant the film to do any of these things, there are definite arguments to be made. Art isn't always up to the artist. A fan's obsession can come into play too.
Room 237 is a must watch for any fan of film, especially Stanley Kubrick and particularly for those who love The Shining. It places itself among the elite documentaries made on the mysterious auteur. Hopefully any obstacles that need to be overcome in order to secure a release will be, and audiences will get a chance to see this phenomenal work.